CAF Confederation Cup: Enyimba On The March Again!!!
By Daily sports on February 15, 2021
Views: 592
To be honest with you this page could not go to bed until after the all-important CAF Confederation Cup game Enyimba International FC and her Rivers United FC counterpart played yesterday as it would be disservice to the numerous readers of this page if comprehensive analysis is not served to them today the copy date of this weekly column.
It became more apprehensive as the very inexperienced football analysts that littered our airwaves worsened the situation with their straight jacket and highly prejudiced pronouncements that tilted to favour one particular side I guess they all geared towards ensuring that their names are not struck out from the register of such club and other things attached.
The CAF Confederation Cup game generated greater interest during build up the hour very sports loving and Patron of AIPS Africa Patron, the performing Governor of Rivers State, Governor Nyesom Wike came up with mouthwatering monetary boaster to Rivers United FC to ensure the side beat their day's opponent and advance further in the Championship.
The action packed Governor capped it up with brand new luxury bus and the atmosphere was beautiful to behold. Sporting emotion filled my eyes and I loved the action by my number Governor who I have talked about and holds in highest esteem because of his being EKWUEME. I have said it to high heavens that he has not time for sentiments telling you what you want to hear. I am one of his loyal fans till date because of his performance, thick skin, and ability not to be intimidated no matter. Outspoken to the core. He makes my day any day he speaks on national issues.
As the number one fan of Rivers United FC he did his very best to support and motivate. It was a good and great game which the fittest won. It was highly technical and tactical match which the bench of both teams was at their best. Both chief coaches were economical with spacing which made the game very tight and close to call.
It brought out the best on the players and Enyimba haven lost most of reliable players to other rival teams relied on their experience and never say die attitude to carry the day. Again the Aba based side team that just rediscovered her form of late reproduced such moves with wholly younger players that gave the visitors no space to operate as those lads that moved to Rivers United could not do much to change the tide for their new club.
Lukman Osho the technical hand of Enyimba International FC produced a watertight match strategy that checkmated the fire spitting Rivers United side handled by old warhorse, Stanley Eguma who incidentally was Enyimba's handler and looking at it from whatever angle the odds on paper seemed favourable to the first timers to continental competition, Rivers United FC.
My younger colleagues that now analyse sports cum football matches on television and radio are so naïve and excited and at the end of the day they filled the minds and ears of their viewers and listeners with falsehood. That is as a result the fact that they don't have rich background of the teams and even most of the players therefore it makes it very difficult for them to give balanced analysis making the whole exercise mockery of the whole thing which however have ridiculed sports and football analysis nowadays.
If you were privileged to listen or view the analysts build up to the CAF Confederation Cup you would come in terms with me and I wonder what becomes the image of these analysts boys that does not have facts while doing a job that needed carefulness and imaginative in approach. It was a shame and one believes that those concerned must retrace their steps. Analysis is never done in straight jacket manner or being sentimental about it.
If the encounter that involved Enyimba and Rivers United were to be awarded on paper the present result would have been the other way round. My take here is that it was a great game where the two sides displayed and played strictly to instruction of their handlers and in football one of the golden rules is you win some and lose some.
Enyimba International FC relied heavily on their pedigree, clam, current form and spirit of the game to ran away with lone goal victory explaining vividly the fact that the popular saying of the end justifying the means. It was well deserved and as the fittest carried the day. Both teams prepared well for the encounter and at last a winner emerged to advance to the next stage of the summit which has entered into crunchy stage where the teams in the poll are no nonsense one as tough and Enyimba as an oldie in the continental terrain must be vigilant and make the nation proud haven dropped from the elite one.
Congratulations to the side from Enyimba City for being our source of encouragement which has been lacking from the government. Enyimba International FC can never change its colour of be intimidated by any team in Nigeria because none has reached the Aba Elephant's height in the current, so shall it be. It has at least sounded it as warning that seniors must be respected at all time because they did not give or placed themselves in such sacred position.
The predications of those amateur and straight jacket analysts notwithstanding. I must before dropping the anchor congratulate and also thumb up upcoming football analyst Ikenna a guest analyst in Channels TV Sports programme anchored by Yemi, after graphic analysis of the game, he called a spade by its name gave the match to Enyimba International FC based his inner heart and eyes on current form, pedigree, chances on a good day, etc, of the Aba team. He did not go around the brush rather he hit the nail on the head and dammed the consequences a critical hallmark of an analyst. Kudos to him and wish he continues his job this way than the other way round. Our social media handles are open as usual; let's discuss.
It was a good game and both sides gave a great account of themselves. Brace up, guys and keep shooting hard till next week as the struggle continues!!
Source Daily sports
Posted February 15, 2021
---
You may also like...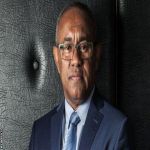 CAF President Ahmad to review TV deal and...

Next Ligue 1 Season Set For August 23...

Messi penalty rescues poor Barcelona

Indonesian club offer Osaze Odemwingie new deal

Last 2018 World Cup qualifier: Zambian's threat to...