NNL Asks Clubs to Name Home Grounds
By Obaseki Anthony on September 15, 2020
Views: 416
Clubs hoping to participate in the 2020/2021 season of the Nigeria National League (NNL) have been requested to submit to the Secretariat of the League body their preferred venues for home matches on or before September 23, 2020.
Such home grounds, the NNL asserted, must be safe and appropriate and should meet the facility requirements as stipulated in the NNL rule books.
NNL Chief Operating Officer, Mr. Emmanuel Adesanya, said the venues for the competitive league games must be different from training pitches and that both shall be inspected before the commencement of the new season.
The stadiums assessment that will follow is to ascertain compliance and level of readiness to host the NNL 2021 League matches, he said.
Speaking further, Mr. Adesanya said clubs are mandated to provide functional Electronic Score Board in their home grounds and in the absence of such, a manual Score Board with a black background (minimum size of 8x5 meters) should be in place.
He gave other requirements as follows:
3. A standard Substitution board with a minimum measurement of 14 inches x 10 inches
4. Fortified Perimeter fencing of at least 2 meters in height.
5. Functional dressing rooms for teams and match officials.
Adesanya warned that the NNL may consider an alternative venue for stadium(s) that fall short of the requirements stipulated above.
Meanwhile, the NNL has mandated the clubs to supply official e-mail and other contact details.
This is with a view to put an end to sending official correspondences to individuals or unauthorized email accounts.
Adesanya said: "Claims in the past by some clubs that they do not get NNL correspondences will be put to a permanent end, when clubs provide it with official (Authorized) communication channels.
"We at the NNL consider communication a key factor in our attempt to revamp the Most Important League in the country, this matter is urgent and must be treated as such by all clubs."
The NNL COO also said that the League will only resume in adherence to the instructions of the Nigeria Football Federation, Federal Ministry of Sports and the Presidential Task-Force regulations on Covid-19 protocols.
•PHOTO: NNL COO Emmanuel Adesanya
Source Daily Sports
Posted September 15, 2020
---
You may also like...

US Open 2016: Djokovic, Wawrinka through to final...

Milla: My World Cup Record Will Be Difficult...

Ex- Premier League player jailed for 15 years...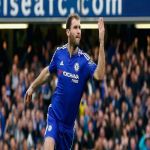 Chelsea's Branislav Ivanovic talking to another club –...

Maybe the real wind of positive change is...