EXPLOSIVE INTERVIEW: Present NFF Statute choking the progress of the game —Dudu Orumen •Seeks reversal to 2005 NFA law
By Daily Sports on March 22, 2016
Sports journalists would agree that interviewing the very erudite scholar, commentator and keen follower of the beautiful game, Godwin Dudu Orumen, is a reporter's delight because of his thorough grip and frankness on football matters all over the globe.
He is suave and a great apostle of the round leather game, which he has described in many fora as a billion dollars investment that must be entrusted in the hands of people that would effectively harness it. He was at his ever best in this exclusive conversation.
A former Technical Committee member of NFF. An undoubtedly loyal fan of the sport. A Lawyer and business man who does not take no as an answer; Dudu Orumen spared some minutes out of his crowded daily schedule to feed answers to our team's probing questions as it affects the game in the country. He is a goal getter, bursting with quality ideas as the game demands this century.
Dudu Orumen manages one of the most visible, tested, trusted and proven Football Academies in the land. It is called Cowbell Football Academy. As the Director of the high flying Academy, he has brought to bear his immense football knowledge to set the tone.
Trust, it was a no-holds-barred interview, Orumen giving much insight into what sadly and suddenly befell the once fast growing game in the country – but not without proffering solutions.
The explosive interview was conducted by DAILY SPORTS MANAGING EDITOR, VICTOR ENYINNAYA, and very resourceful REPORTER, ADEYINKA AKINTUNDE. ENJOY…
Daily Sports: We have previously discussed the rumble in Nigerian football, this is not the first time, but this is coming at a time when we have an important qualifier. Nigerians already know your view, starting from the days of Oliseh, to the election period. What do you think is the way forward for Nigerian football?
Dudu Orumen: Well, I have heard enough talking Nigerian football. It cost me business, it cost me all kinds of interest, and I have decided to leave it for them, let them run it the way they can. On a personal note, I tried to advise the decision-makers on what I think should be done. I tried also not to make a media issue out of it.
On the election issue, we all are aware of what happened. There is a body in place now, let them run their term through, and also re-create the process of getting to the board, make it a bit more flexible, so that other stakeholders who have a hold on the game at different levels, those who can sponsor the game could come in, not chairman or secretaries of State FAs who are political appointees. The NFF as re-configured by Sani Lulu Abdullahi and his executive committee members, they are the architect of our present problems. They restructured it in such a way that it became an excluding charter that kept the best interests/hands out of the game, which is unfortunate, and to think that Nigeria came out of a man like Ibrahim Galadima as chairman, being forced out of office with the aid of FIFA, because the then FIFA Secretary General relocated to Makurdi, and joined the so-called stakeholders to force out a legitimately elected seasoned Galadima and his board. Since then, we haven't known peace, the national team, administration and sundry of the sport has been on a downward slide; there has been confusion all over the place. So, let us make a consensus mechanism that allows everybody that is knowledgeable, deep interest and passion a chance to contribute to this business. What I am saying is that it should not be a close ended house as it is presently constituted? Major reason being that it is no longer a passion only; it is a very strong commercial module that is being toyed with. Therefore, decisions should be made by those who understand nitty-gritty of the game.
When you tell people that a Nigerian cannot coach Eagles, they get furious, some even tell you that a job for Nigerians shouldn't be given to non-Nigerians and I ask where in the constitution they said that a Nigerian must coach the Super Eagles. The squad is the Nigeria's flagship side and therefore it is our brand; a super brand, whose demand is the best coach that can make the team marketable internally and globally. The stock of the Eagles must rise in international markets if it pays grade A international friendlies when coached by a well-known, very-experienced foreigner, who has the capacity to challenge other coaches tactically, technically and whose matches must feature as grade 'A' games.
The economics of the business is that what goes into running the national team is the value proposition of everything, what is coming into our pocket. They say they don't have money to pay coaches, how would they have money when they live on subventions? There is a business module which I put together and I said they should try it. People said the module cannot work because the NFF is dysfunctional, and I am always quick to say there is no time the NFF has been better than this. Since the days of Godfrey Amakiri and Sunday Dankaro, you cannot point to an NFA period when they come out with some creative idea, novel, upbeat and something that brings in money; everybody is just waiting for government funds. But this NFF, full of young men, open to new concepts and best global practice, can re-invent the wheel, re-package it and ensure that the Super Eagles is managed by a man whose high profile can support the growth in international market.
Then, they must begin to look for new ways of getting funds to meet their needs so that we stop hearing that the coaches are owed. Oliseh was paid three-months upfront, nobody said anything, when he is owed, and it becomes an intensive issue.
I think it is an emotional thing, and we need to rise above sentiments. And I said to them, each time you say invest Eagles in a coach, just one man, 40 million football followers, 140 million Nigerians, you are joking with our bragging rights. A young friend of mine in one of the dailies wrote that he believes in capacity building, and I said capacity building for how many people? How many people can coach Eagles? One with a couple of assistants. So we wait, until they are ready, before we win: which means, a minimum of 15.5 billion naira goes un-spent every time we fail to go to the Nations Cup, and that is a disaster.
Fact is that you cannot talk to your sponsors to increase your sponsorship money and endorsement, because you are un-rated. England agreed to play you after 1994 World Cup, because before then, Nigeria was rated fifth best in the world. I hear one professor that brought statistics that said that Nigerian coaches beat foreign coaches of other teams, and I ask; who are these teams? Botswana, Rwanda, where is their football pedigree? So if they get a forth rate coach, to get their forth rate football, how do you celebrate it when you have a country of 170 million Nigerians parading itself that it beat a country of total population of 5 million? I told the guy that such statistics are very misleading and absurd because they did not look at the indices of the team and us. So, going straight to the final thing, it now behooves on the NFF to re-package its acts accordingly without any further delay.
On making Nigeria marketable again to the outside world, taking Zambia for example, who has a former player as the President of the Football Association of Zambia (FAZ), Kalusha Bwalya. Bringing it to Nigeria, how do we elect ex-internationals into the executive committee of the NFF, so that they can bring up Nigerian football, make it marketable to the world, and make it one 'A' class country again, that the world will want to come after?
Let me ask you: FIFA that grew to such a powerful outfit, how many ex-footballers are there? Joan Havelange, who changed the mode of the game forever, when he took over FIFA in 1974 at the Germany World Cup congress, FIFA was at the brink of bankruptcy, 24 years later, FIFA was worth 24 billion dollars and more. Was he an ex-footballer? If an ex-footballer has the necessary skills, if he is ready to add to the value chain, let him come.
The Ghana model, Tony Baffoe made all the noise; where is he today? This thing is about being educated and having necessary skills. What makes the ex-footballer more important to the game than me? If the ex-footballer has the skills, then let him position himself. Football business is a value chain: the fan, the referee, the footballer and the administrator, no one is more important than the other. For instance, what has Austin Okocha done since being chairman of Delta FA? Oliseh was given the national team, what did he do? Stephen Keshi, given the national team, won the Nations Cup; we clapped for him, the next one we failed to go. Anybody who is good enough should stake a claim. There are legal issues to resolve in the NFF, business issues, technical issues, administrative issues; anybody who is good enough, should position himself. It is time up for these pretenders to this supposedly platform for the erudite.
How then do we find the right people for the NFF board?
I have already told you that the NFF should re-visit the statute, how to become a member of congress and be eligible to vote and be for elective post. A time was when some NFA (not NFF) members changed the rules that favoured only a few persons. We should go back to the extant law, NFA status of 2005 (as amended), that is the law. Is it right that NFF collects money as NFA and spends it as NFF, which is daylight illegality? Those are the areas that need to be dealt with, so that people, who are engaged, can come in.
Our double header AFCON qualifier against Egypt is around the corner. What do you think those vested with that all-important project should be doing, the backroom, though the list of players are already out?
You see, I am a lazy tailor. I believe in 'a stitch in time saves nine'. When I said don't give Oliseh the job, it was one stitch. They said he is Pep Guardiola of Africa. They now need nine stitches, those who created the problem let them solve it. I am not going to think for anybody at this time, especially the coaches, who I think really have some work to do. But my advice is this; they should play with minimum pressure, because where we are now is not their creation. Our first move shows we are not being smart. We pray that the NFF will be able to provide logistics support, provide adequate funds, camping site, and any video of the current Egyptians squad they can lay their hands on, and hope for the best.
Whatever may be the consequences of the match against Egypt, and the whole AFCON qualifiers; predict the future of Nigerian football?
I am not going to predict the future. I am not Nostradamus, or Octopus Paul. I am a football fan who follows the game with his head, not his heart. These things that are wrong need to be addressed, as we have discussed. When we have addressed the composition of the NFF, the FA comes up with new aims and objectives, targets, draws up a roadmap for four years, with milestones and timelines, and then we will be heading for something. But to predict on the activities of human beings I have no control over their thought process, is obviously asking for too much.
It is likely that the NFF will go for a foreign coach. Are you in that party?
Everybody has always known my position that where we are now, a foreign coach is the answer because it will give Eagles a more market value. But a couple of friends of mine within the board have told me that if Siasia qualifies, they would give him the job, and I said good luck to them. If he goes and wins the Nations Cup, very good, but if he doesn't, Eagles will never play grade 'A' matches, we will be playing Rwanda, Cape Verde, we won't get money from it. So, my prayer is for Nigeria to qualify and win, so they can make their decisions. But like I said, I am exhausted from talking. Amaechi's Presidential Task Force on South Africa 2010 World Cup was my creation (See Segun Adeniyi's book, page 269). On the eve of inauguration, I was dropped. I am made to understand that late President Yar'Adua was told I am a trouble-maker, because I am seen as not flowing with popular opinion, but it will interest you to know that popular opinion has never come out better than my own.
The NFF is a reflection of the larger society in Nigeria, with interest groups, people who think through their pocket, people with limited views, people who are not competent to run our football.
Away from the Super Eagles now, because this also affects the Super Falcons and other teams. Coaches not fit are given the job. The U-20 (Flying Eagles) will always go to the World Cup and never win; the Falcons win in Africa but never excel at the Women's World Cup. What are all these pointers about?
There is no honesty of purpose in most of these things. For the Super Falcons, where is the league? There is no league you can call a solid league. When I hear Beach Eagles or Sand Eagles, you do not have a league for beach soccer, yet you have a national team. They are just building a house on no foundation. Sadly, it is their way here. When you dare object to such anomaly, you are singled out as rebellious.
The Super Falcons in time past when we had a league beat Cameroun, South Africa and Ghana, but today they wrestle us because we don't have a league. So the beginning of dealing with women football are one, solid league, sponsorship, leadership, and I don't think the women football has a leadership that understands what the business is about. They don't have a league. The rest of Africa is overtaking us.
The same thing for the U-20, we are not honest with ourselves. Let us have players who are products/graduates of academics. But what we have, the players are mostly from academies that the executive committee members of NFF sponsor themselves. There is no honesty of purpose. This is a time for reality check. Let us have a league that is reasonably sponsored.
Let us come to Cowbell Football Academy. How has it been so far?
Let me say, for a man with my presence in football, it was unbelievable that it took me four years to get a sponsor. Cowbell has responded very well, but as you know, when the economic atmosphere is squeezing people, the first to go is compensation responsibility. Our sponsors are trying within their limits to sustain us, but again we are closing down some centres to utilise what they have given to us.
In 2014, two players from Cowbell Academy played for Nigeria U-15 in Botswana and won gold medal. One was captain of the football team. So it means we are making progress. That same 2014, the MVP in the Principals Cup for Lagos State, Samuel Adewale, is a Cowbell Academy product. About five of them were loaned to Stationery Stores FC for the season; some are now in America on scholarship. We are making some progress. We did experience some drop last year, because we had a slash in budget, so not much happened, but we are in new spirit now, because the sponsor has promised to support us with their resources. We are also hoping that some other persons can partner with us in sponsoring us. In a few months, scouts from foreign universities like America are coming to watch a tournament that Cowbell will host. We are being creative and innovative.
On the last note, do you think we are qualifying for Gabon 2017?
I will be happy for us to qualify, but if we don't I won't be disappointed.
Thank you, Sir, for accommodating our team in your ever busy schedule.
You are always welcome and bravo to your medium, Daily Sports online. Keep the flag flying, because you have not started badly' we are keenly following your portal's progress.
•Photo shows Dudu Orumen.
Source Daily Sports
Posted March 22, 2016
---
You may also like...

Ronaldinho Surprised Messi Left Barcelona For PSG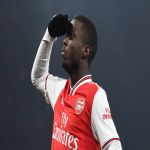 Pepe Wants Emirate Exit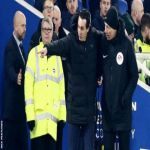 Arsenal boss Emery fined for Brighton bottle incident...

GOtv Boxing pledges financial support for Oladeji's family...

Welbeck ruled out for nine months