National Under-12/15 Handball Championship Open To Everyone — HFN Technical Committee
By Obaseki Anthony on February 26, 2020
Views: 810
The Handball Federation of Nigeria (HFN) has maintained that the National Under-12/15 Handball Championship is open to any team in the country which wants to be part of the competition.
According to a release by the HFN Technical Committee sent out to participating teams through the secretariat, all state teams, clubs academies, local government teams and so on are eligible to participate in the championship provided they meet their financial obligations for affiliation, registration, participation and license fees.
The technical committee, while also reiterating that the matches at the championship will be played in accordance with the rules of the International Handball Federation (IHF), revealed that a screening exercise will be conducted by a screening committee before the commencement of the championship.
The screening by the committee will include but not limited to birth certificate of the players obtained at birth and not one arranged later as well as facial screening.
Players who previously have played in the federation's under 15 championship will not be allowed to play in the under 12 championship even if they are within the age bracket.
Any player screened out of the under 12 can participate in the under 15 screening.
Also a player who has been disqualified will not be allowed to take part in the competition and the team will lose their match and be heavily sanctioned.
These and more areas will be screened before the commencement of the National Under 12/15 championship.
Meanwhile, the Sam Ocheho-led HFN Board has praised the effort and commitment of Sokoto State government on the free accommodation and feeding for all the participating teams
The National Under-12/15 Handball Championship will hold from February 28 to March 7, 2020 in Sokoto State.
Source Daily Sports
Posted February 26, 2020
---
You may also like...

Victor Moses, Iwobi, Anichebe start in Premier League...

Argentina players 'will decide team' for World Cup...

As Portuguese Jose Vitor Dos Santos Peseiro Takes...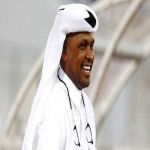 World Cup 2022 Ambassador Tests Positive For Virus...

Messi backs Atletico Madid to win UEFA Champions...