Young Nigerian Daniel is a Guardiola 'Keeper
By Daily Sports on July 4, 2019
Views: 609
There is a rising trend in world football today which sees top clubs and teams placing much emphasis on having goalkeepers who are not just good on reflexes and defense organisation alone but, as well, an ability to orchestrate play from the back.
Big teams increasingly value the patient build up tactical style that involves their goalkeeper initiating the play with an ability to pass the ball just like any other in field player.
Think Pep Guardiola the Manchester City coach with his love of his Ederson the master passer of a goalie, think Liverpool manager Jurgen Klopp spending heavily on Allison Becker, another excellent passer and confident keeper. These players have added a lot of value to their clubs by their rare ability to pass accurately, dribble when necessary and their sheer overall confidence to aid their team to play out of the back.
Goalkeepers with such characteristics help their teams to destabilise the press of their opponents, thereby opening better routes to hurting the opponents by bypassing their press enroute to goal.
In Nigeria, these qualities in a goalkeeper are even rarer in our domestic game that often overlook these attributes, instead opting for goalies who acrobatically throw themselves up and down in dramatic style after catching the easiest of shots.
However there are a few goalies out here who possess the qualities sought out in the modern keeper. One of such goalies I have had the pleasure of watching and coaching is Tosan Daniel. He is certainly a Guardiola goalkeeper.
The teenager, who is currently on loan at NNL division 1 side Sapele Lions, is simply a delight to watch for those with a keen eye for appreciating the advantages of a goalkeeper's accurate little one-touch passing, his keeping the ball expertly for a few seconds to give teammates the needed seconds to adjust their shape and get into the right positions and his positional awareness to receive a pass from his under-pressure defenders and distributing the ball effectively when he is under intense pressure from the opponents.
Daniel is not all about the passing. He can effectively organise his defense, has the agility and positioning sense to keep out long and short range shots and also has a good command of his box, with good handling of crosses.
But there's no doubt when watching him that the stand-out side of his game that differentiates him from his peers is his nice long and short range passing abilities.
These abilities were in sharp display late January when he played for grassroots club Benin Warriors against Sapele Lions in a friendly match which the Warriors shocked the NNL side 2-0 in Sapele. Daniel was a calm presence in the Warriors' goal, surprising spectators with his lanky frame and fearless display while helping to keep the Lions at bay with his composure on the ball.
After the game, Sapele Lions requested for his services and today he is first choice there.
I believe very strongly that if Nigerian football is to grow beyond the functional kick-and-follow football habit we have acquired over the years to levels that look like beautiful art, involving good flowing moves, then we must recognise the value and contributions of the modern keeper to this desired way of playing.
We should take note of the likes of Tosan Daniel, for in people like him lies some of the answers to the tactical problems of our teams.
***
Big Remembrance Match for Late Youth Coach Who Discovered Former Under-17 Star Orji Holds in Benin City
Thousands of football fans, football stakeholders and players, including former players of late popular Edo grassroots coach Shola Hakeem will be at the USA Primary School field in central Benin City for a big football match as part of ceremonies to mark the third anniversary of the passing of the coach.
Popularly known as Coach Shola, Hakeem was a very well-liked figure in Edo State football who groomed a vast number of very talented players, some of who have gone on to become professional footballers as well as featuring for the various national teams of Nigeria.
I had the pleasure of knowing Coach Shola close up and I admired his dedication to coaching, his tactical brilliance and the beautiful samba football his teams played and his overall sense of fairness and warmth as a human being.
He would call me "Mourinho" and it was a big complement from him especially when I saw him as someone who I learnt a lot from.
Coach Shola discovered Orji Okoronkwo who was one of the star performers for the Nigerian Under-17 Golden Eaglets team that won the cadet World Cup in 2015 in Chile.
Okoronkwo is currently contracted to Italian club Bologna.
Some other players who passed through the fatherly hands of coach Shola include former Home Super Eagles captain and Rangers star Solomon Okpako, Turkey-based professional Efosa Ona, Orobosa Adun (Rangers) amongst many others.
The ceremonial match will be between these ex-players of Shola FC vs an All Stars side comprising of active and former star footballers in Benin City.
Kick-off time for the match is 3pm on Thursday, July 4.
Coach Shola is survived by a wife and a son. He passed away in July 4, 2016 after a protracted illness.
•Photo shows 'Keeper Daniel
Source Daily Sports
Posted July 4, 2019
---
You may also like...

Siasia Moves to Quash FIFA's Life Ban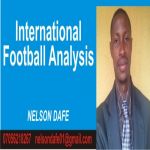 Man United Preseason: What Should the Red Devil's...

Super Ayew brothers send Black Stars through

Eagles almost sure of WCup ticket - Akpeyi...

Why I left Barca - Neymar