U-17 World Cup Final: We're ready for Mali —Amuneke •All set for battle of West African stars
By Daily Sports on November 8, 2015
Views: 3,910
It will be an all-West African final as the curtain is drawn on the 2015 FIFA Cadet World Cup football summit holding in Chile. Defending champions, Nigeria's Golden Eaglets, are up against African champions Mali in what bookmakers, pundits and commentators say have the trappings of a thriller whose memories would linger for a long time in the history of the tournament.
The setting for today's epic clash is the Estadio Sausalito, Viña del Mar is 11pm Nigerian time. Nigeria set up this historic opportunity after overcoming desperate Mexico 4-2 in the difficult semi-final encounter. Head Coach Emmanuel Amuneke is quoted to be focused on the final showdown.
On the other hand, Mali came thus far after stopping Belgium 3-1 in the semi-finals and this meet against a free scoring-side like Nigeria would be their most difficult encounter since the competition started some weeks back. Incidentally, the young Les Aigles are yet to lose a game in the contest and will certainly prove to be a hard nut to crack despite the lethal nature of Eaglets.
The good thing about this is that Amuneke has since acknowledged what lies ahead going by his words: "It would be a difficult match in which both sides test their prowess and finesse. We don't run away from battles. This is the kind of setting we dig in depth. It will be the fight for the fittest. We are ready for the worst. The boys have developed thick skin after Brazil and Mexico scare. We are pleased to be in the final and have the prospect to defend the world title we won in UAE in 2013. The history we are chasing is to win it back to back. If we achieve that, it will be good enough. Mali is a good team, Africa's champion. This is going to be a remarkable challenge. The entire team relishes the momentous chance and we have vowed to grab it with our two hands."
Indeed, Mali has had the best form in the run-up to the final; not losing a game plus letting in only 2 goals compared to Nigeria's 5.
Already, Baye Ba, head coach of Mali, is not relenting in perfecting his killer strategies. He was quoted to have vowed that Nigeria can indisputably expect an extremely difficult game tonight in Chile.
While the Eaglets are the highest scoring team with 21 goals (8 more than Mali), the Francophone African is the best attacking team in Chile with a total of 132 shots to Nigeria's 119.
The duo will also come into the final with the highest goal scorer, Victor Osimhen (Nigeria) and Samuel Diarra as best goalie (Senegal).
To Ba, he'll be playing a beatable team at the Estadio Sausalito Vina Del Mar. According to him, "We faced a very good side that has tired us. We will be careful not to concede a quick opening goal. We have to react quickly for very move. I am aware it will be very hard tactically and we will run a lot to get the win. We must also avoid a bad start in this game, though it does not happen often to my lads despite their young age."
Ba told his country's fans to be rest assured that for the final, he does not care if it's Nigeria. "I just want to face and beat them," he stated.
The die is cast.
•Photo shows Amuneke.
Source Daily Sports
Posted November 8, 2015
---
You may also like...

Ibe seals Bournemouth move

Rohr refuses to play mind games with Amrouche...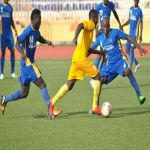 Nigeria clubs begin continental campaign

3,000 fans mob Premier League stars Mikel, Moses,...

Rivers United blame sell-out allegations for thrashing at...