Dominic Iorfa as a Metaphor in Football Administration
By Daily Sports on February 11, 2019
Views: 6,432
This column wishes to join millions of football enthusiasts to bid farewell to star player Sala and to extend our condolences to the family. We enjoin the teeming supporters of the player and the game Worldwide to brace up and pray for the repose of his soul. As you can readily agree, this page has, like religion maintained that Sports Minister, Solomon Dalung is not only a pretender of the first order but also a confusionist. I have also highlighted here that his mission in sports is to grab and grab and he uses blackmail to renew his relevance in the consciousness of especially the NFF executives in order to get more patronage.
One hopes that he would be calm now that he has been prevailed upon in various quarters and also settled to allow the sleeping dogs lie and sleep soundly so that football administration led by Amaju Pinnick would concentrate on the job of fixing football in Nigeria. He must forthwith stop his fastidious tendencies and hold tight to what he has received so far to allow peace and normalcy to return to the arena henceforth. He should checkmate his now nature of going back to his vomit. I won't stop commenting on the rather sad attitude of the Minister and those that work for him to extort fortunes from Sports federations especially the NFF despite faceless attacks from his boys/girls on my person.
This week we will examine and welcome back to the mainstream one of Nigeria's finest football administrators of note and character, Dominic Iorfa, who is now in charge of the newly promoted team in the Nigeria Professional Football League (NPFL) terrain, Remo Stars. The team from Ogun State last week made one of its boldest steps that brought on board the experienced football administrator and ex-international, Iorfa, who is now its General Manager.
Iorfa needs no introduction either as an administrator of the game or as an ex-international of high pedigree over these years. To be honest with you, he has been there and could easily be and safely referred to as one of the best hands in our elite league football club management following closely the footsteps of Enyimba International FC of Aba, supremo, Felix Anyansi Agwu, who has variously paid his dues in the round leather sport over these odd years.
It would also be instructively recalled that NPFL has or can boast of some egg heads at the helm of various club sides led by veteran administrator Felix Anyansi Agwu, Mike Idoko of Lobi Stars, Davidson Owumi of Rangers International and now Dominic Iorfa. The circle will expand whereby these administrators that brought to bear their wealth of experience into the administration of football including its politics, has come to stay and assume a front role as an icing in the cake for the overall smooth running of the game. Iorfa, we all know, can be unassuming but strict when it comes to his job. He is one disciplined administrator with killer but flexible strategies to get results from his players. He is a team player that listens to issues that would help him achieve his set goals.
In all honesty, he has paid his dues and made far reaching statement on the scene. He has been here and there too administering the game he played to the highest level as one of the national team players. He has led the top administrative leadership of Lobi Stars of Makurdi, Benue State. The icing came when he once served in the executive committee of the Nigeria Football Federation. He contributed meaningfully during his tenure in the apex football house.
Iorfa has done his bit well and one hopes that the owners of Remo Stars would adequately arm him with necessary tools to enable him perform at his optimum in his new assignment. Those that follow Iorfa would agree that he is a result oriented person. If Remo Stars owners are serious to stay in the elite division of our league, it must match action with words by ensuring that right things are done by giving Dominic Iorfa the facilities he requires to smoothly carry out his job without any let or hindrance. Remo Stars FC is not doing well since it returned back and started the ongoing season and bringing in Iorfa to the scene meant that the owners now want to come off from being pretenders to contenders. To cement it firmly would be to give Iorfa led management all the support it needs to steer the team out of its current position on the log. It is obvious that there are much deficits in the team that need rejigging ranging from the quality of players in the line-up to remuneration in order to bring back the spirit and vigour in the players to give their best in all spheres for effective output.
But one must commend the engagement of Iorfa by Remo Stars owners as a first step to repositioning the team and focus it on the part of becoming champions. Bringing in quality players that would do the turnaround needs much cash and the owners, I am told, have deep pockets and equal to the task to steadying Iorfa who most analysts have posited may not last in the team due to poor funding.
The Benue State-born ex-international is one of the first rate administrators and anybody that has him must do the needful to roundly empower him to discharge his duties diligently without hassle.
However, this reporter submits that if Remo Stars owners are serious with being in the NPFL to stay, it must provide the ennoblement that will keep Iorfa working round the clock to turn around the team that many has written off. Thinking towards hiring Iorfa remains the best step in the right direction. Iorfa has the acumen. He has all it takes to turn in results in Remo Stars. He has the magic wand as one that is a strategists.
To be honest with you, I have followed Iorfa as a club side player and then to Super Eagles way back my reporting days in the old good Daily Times then to his years in NFF and Lobi Stars. I have also been with him one-on-one on a number of times in the course of this job. I must say that he is so passionate about his job and this game that brought fame and sundry to him and he would stop at nothing to ensure he gives his all and best to support its growth in the country.
For the records, his son is making waves in his professional football career in England. One thing is certain and that is Dominic Iorfa loves this game and has it occupy the greater part of his heart, hence he kept supporting and coming to administer it whenever and wherever his services are needed and he will excel in Remo Stars if he is duly supported by his employer. As we follow the activities of Remo Stars FC and Iorfa's touch as the ongoing season unfolds, we wish him well. He deserves the best because he has contributed meaningfully to the progress of football in the country and eminently qualified to make it to this highly reserved weekly page in your soar away all sports online daily.
One must however inscribe here that the news of Dominic Iorfa's engagement by Remo Stars owners was exclusively broken by veteran sports journalist and most frontline Nigerian League crooner and writer who is always on the spot of action, Anthony Obaseki, who was until recently Media Manager of El-Kanemi FC of Maiduguri. When he called me to tell me about his return to the beat, I jumped up from my chair and urged him on.
For some time now you may have been noticing racy, lucid, exclusive NPFL reports in Daily Sports from across the country reported by him. He is a one-man riot squad; in short an authoritative senior man on the beat and journalism. His League Network has served as guide for NPFL followers over these years. I must not drop the anchor without saying that I worked with him way back my days as the Sports Editor of National Daily and he is worth his salt. Please read the Dominic Iorfa story as captured by Daily Sports last week. Continue to be addicted towww.dailysportsng.com as our best is yet to come. Join us in our active social media platforms to discuss further on Dominic Iorfa and other sundry burning issues. Keep shooting hard, till next week!!
Dominic Iorfa Now Remo Stars GM
Ex-international and former Lobi Stars Vice Chairman, Dominic Iorfa, has joined newly promoted club, Remo Stars FC of Sagamu as the General Manager. The former NFF board member resumed with the team last week.
According to Remo sources, the former Director of the League Management Company (LMC) is in charge of the team. "We now have a new General Manager in our team – a very seasoned administrator in the person of Dominic Iorfa and he has resumed with us," a source said, adding: "You see, the President of the club has given him the club to manage and he is fully in charge of the team.
"We are very happy to have such a person in our team; with his experience, Remo Stars will move up." Iorfa was in charge if Lobi Stars for years where the team did well in the Nigeria Premier League. We thank our President for engaging the experienced Dominic Iorfa as the team General Manager and we are all going to give him our best to achieve and move the team up.
Source Daily Sports
Posted February 11, 2019
---
You may also like...

Barcelona defend social media support for Messi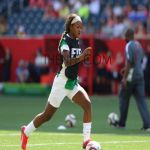 Ordega: African women's football is on the move...

Roma and Nigeria starlet reveals why he rejected...

Barcelona Close In on La Liga Title after...

NFF keeps Eagles fans in suspense, to meet...