McGregor eyes Mayweather, Anderson clash
By Daily Sports on October 4, 2018
Views: 496
Conor McGregor will be competing in what some consider the biggest fight in MMA history Saturday when he faces Khabib Nurmagomedov for UFC's lightweight belt in Las Vegas. But that doesn't mean he isn't looking ahead to the future.
The Irishman told ESPN's Ariel Helwani he would win this weekend by "devastating KO" and then assess his next opponent from a long list of possible suitors. This includes a rematch with Floyd Mayweather in either boxing or MMA.
"I'm certainly considering a few options. There's this fight and the co-main [Tony Ferguson vs. Anthony Pettis]," McGregor said. "Of course then there's boxing ventures. I'm very excited about that.
"If [Mayweather] has the bottle to come over and deal with this, like he said he has, let's see what happens.
I would also like to box him again. Everything is being discussed. Every rule set. If it's not an MMA bout, then I don't want to know.
It's either a straight MMA bout or a straight boxing bout. If they come looking for modified rules, I would rather just box the kid again. If you don't want to deal with it, then don't deal with it and stop going on like you're doing."
MMA legend Georges St-Pierre, the former UFC welterweight and middleweight champion, stated earlier this summer he would be interested in returning to face the winner of UFC 229's main event. Asked about that particular matchup, McGregor responded with another name.
"We'll see what happens, but I don't think next," he said. "He doesn't really have anything for me personally. I'm not going to shut the door on that down the line. You know what would be another great one? Anderson Silva.
"I would be interested in an Anderson Silva bout. I swear to God. Anderson is a legend in the game. What's the difference between him and Georges? Same damn thing. I'm going to do fights that interest me or have meaning."
•Adapted from a KweseESPN.com report. Photo shows UFC fighter, Conor McGregor
Source Daily Sports
Posted October 4, 2018
---
You may also like...

Ighalo 'honoured' by new Watford deal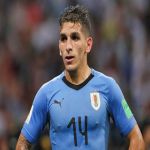 Lucas Torreira: Arsenal set to complete signing of...

Blues rediscover winning formula after Mourinho's sack (Chelsea...

Rohr: I did not reject my accommodation

Lagos ready to host Africa Beach Soccer Cup...