Maybe the real wind of positive change is blowing around officiating and corruption in African football!
By Daily Sports on June 12, 2018
Views: 679
There has been a surprise abridgement of the Nigerian National League (NNL). In a communique issued on June 7 by the Chief Operating Officer of the NNL Lawrence Katken, the abridged League season is being halted as a result of a catalog of complaints regarding the standard of officiating.
The NNL is going to meet with the NFF to address the issue, according to the communique.
This is following a series of recent exposé relating to the corrupt actions of some African referees and of some football administrators that has reached its head by claiming the head of the Ghana FA Kwesi Nyatakyi.
The poor level of officiating in the Nigerian League has, needless to say, destroyed the image of local football in the eyes of Nigerians and foreigners.
Results of league matches have become, over the years, easy to predict because of the ignominious actions of corrupt and incompetent referees, and the impact is a game that is largely discredited near and far.
But somehow, there is more focus on the referees now. I'm not so sure what has triggered this particularly. But we can see something has changed or is changing.
Credit must go to the BBC for its undercover reporting which exposed the hypocrisy of the disgraced Ghana FA chairman and also shone some more light on referees corruption.
When evil is exposed by uncompromising actions of determined journalism, it shrinks.
The NNL's halting of the league to discuss the unhealthy trend of bias officiating, hopefully will lead to an honest and open acceptance of the fact that things shouldn't go on as before and that something significant must change.
Too many hands have been soiled, I suspect. Maybe witch hunting will not work. But if every shady stakeholder realises that they either bend away from their corrupt ways or face the music of public disgrace and criminal charges, then things can begin to get better for the Nigerian local league as regards officiating.
Source Daily Sports
Posted June 12, 2018
---
You may also like...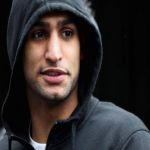 Khan faces a long list of opponents in...

Late injury knocks legendary Egyptian goalkeeper El-Hadary out...

Tanzania names squad for Nigeia qualifiers

Canelo determined to knockout GGG in rematch

Guinea and Cameroon in U17 Afcon stalemate