I will follow Wenger wherever he goes
By Daily Sports on April 24, 2018
Views: 2,468
Since Arsenal manager Arsene Wenger announced his decision to quit managing the club he has been in charge of for 22 years, rumors have swirled heavily on who his replacement at the helm of the Gunners would be. Names like Diego Simeone of Athletico Madrid, former Barcelona coach Luis Enrique, Juventus coach Massimilano Allegri and others have been linked with the soon-to-be-vacant job in London's biggest club in terms of rich history.
But my thoughts are firmly on the man currently in charge and who has had a turbulent last few years in a club he worked extremely hard to take away from the doldrums of British football, turning them into one of the most exciting sides to watch, till this day.
First off, I wish to reiterate what many Arsenal fans sang on Sunday when Arsenal played their first match at their Emirates stadium home since the announcement was made. "There's only one Arsene Wenger."
I feel exhilarated when I sing those words to the tune of Wyclef Jean's 'Guantanamera' as the Arsenal fans did Sunday and especially during the glory years of Wenger's earlier period as Arsenal manager when trophies were rolling down like confetti.
But as you very well know, the last few years have not been as glorious as the earlier years in terms of winning the huge honors of the English Premier League, while the Arsenal have of course never won the Champions League.
A combination of factors, like the emergence of far richer clubs and tough luck have combined to see to the inability of Arsenal in the area of winning the bigger trophies.
With this decline has come a vociferation against the Arsenal manager which reached such a divisive crescendo that he has now decided to step down.
I paid my tribute to the man I have so much respect for on Facebook on the morning his decision to quit was announced. Here were my heartfelt words:
"Thanks, Arsene. Great inspirer. A lot of the values I've learnt in life, I got from you. I owe you a lot for your football intelligence, your loyalty, your ability to stay focused and firm under unnecessary pressure from many who know only a minute little but make the loudest noise, most of all for your goodness as a human being. Most of us of my generation and younger started supporting Arsenal because of you, and even if many, as it is with human nature, turn around to despise you in times of struggle. The True Gunner will ALWAYS LOVE YOU."
Now I wish to make a tiny confession. I have been so displeased with the vitriolic criticisms that have come Wenger's way over the years and I am seriously considering whether I can remain attached to Arsenal when Wenger goes. This is a club I have supported throughout my adult life, but I would feel nothing anymore for them if it is established that there was a conspiracy within the club to undermine a Wenger, a man that has given his all and served with all integrity that he could muster to make the club a prudently managed business that titilates our human taste for something beautiful with their poetic football.
Following his decision, the Arsenal boss spoke about his frustration at how a lack of 'unity' amongst fans of the club damaged his reputation and the club's identity in the last few years. I feel so hurt about this as well.
Many people with no experience of having been in charge of anything worthwhile in their lives have been loudest in their throwing abuses Wenger's way.
I have on occasions unfriended some guys whose criticisms strayed beyond the boundaries of common sense and into sheer display of hate. This unfriending has happened both on social media and real life.
People who would give everything to have the honor of being a mentor to someone who would go on to be president of a country; people who would never be able to coach for a few football matches successfully, let alone going a full season in the toughest league in the world unbeaten; people who have zero record of being empathetic and intelligent enough to foster the growth of others in life in something worthwhile; these are the people who have been the rudest critics of Wenger.
Yet these people are in such high numbers that it makes me wonder if there's something about the human condition that guarantees that many would be against the nice guys in life.
For some Arsenal fans, maybe most, the anger towards Wenger is borne out of a genuine frustration over Arsenal's failings in the pitch. But the extent the criticisms have gone, with the madness being displayed on Arsenal fan TV being a case in point and all the personal abuse, has really put me off.
There's nothing new to add to what gifts Wenger gave to football in England. Talking about playing style, man management, business skills, etc. As Arsene Wenger's assistant for 16 good years, Pat Rice put it, Arsene Wenger is Arsenal's greatest manager of all time and while this stays dearly in my heart, I await news on where, if any, would be Wenger's next port of managerial call.
Current Arsenal captain Per Mertesacker said of Wenger after their last game against West Ham: "You can feel that he has got a lot left in him in terms of the power he gave to the team.
"He has power in himself. He is ready to step up and stand in front of the media every single time we cannot produce a performance."
For me, quite simply, I will continue to support Wenger's club if he goes into another coaching job. His career at Arsenal has been so rich in terms of the excitement his team generated in me with the quality of their football transcending simply winning and losing.
Also, I cherish the education Wenger's reign at The Arsenal has offered me. An education that showed clear examples of the limit of the human being to please everyone, no matter how good, honest and hardworking one is.
If Wenger goes to another club, I will follow him and maybe learn something new about life through the experience of le proffeseur.
Source Daily Sports
Posted April 24, 2018
---
You may also like...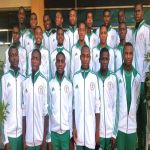 Ambassador consoles Eaglets

Andy Murray knocked out of Wimbledon

Table Tennis Star, Omotayo ready to work hard...

Salisu Yusuf Fraud: Where is Buhari's EFCC? Where...

Pillars drop goalkeeper Danladi Isah