NFF Players Status and Arbitration Committee: Players Union advises NFF
By Daily Sports on January 11, 2018
Views: 870
The Nigeria Players Union also known as the National Association of Nigeria Professional Footballers (NANPF) has called on the Nigeria Football Federation (NFF) to revisit the recent appointment of members of the Players and Arbitration Committee due to its faulty composition.
In a statement issued on Tuesday in Lagos, signed by the Assistant General Secretary, Comrade Danladi Musa, the Union said it observed with all sense of responsibility and professionalism that apart from the membership of the committee, which has increased from seven to 19 in the face of financial challenges, the composition also runs fowl of FIFA rules governing the procedures of the Players Status Committee and Dispute Resolution Chamber.
According to the Union, article 4 on Composition states that "the Chairman, deputy Chairman and members of the players status committee shall be appointed by the Executive Committee. The 24 members of the DRC made up of an equal number of player and club representatives shall be appointed on the proposal of the players' association and the clubs or leagues."
The Union emphasised that "the arbitration committee is the domestic version of the Dispute Resolution Chamber (DRC) which is known as the National Dispute Resolution Chamber (NDRC). In other words the Players Status and Arbitration Committee as we have in Nigeria today, is the equivalent of the Players Status Committee and National Dispute Resolution Chamber, and its composition should therefore follow standard procedure as enshrined in FIFA rules governing the procedures of the players status committee and Dispute Resolution Chamber.
"As far as the Union is concerned, we have not made any recommendation or proposal on the current composition of members as required by law, and we are not also aware if the clubs or the leagues did. We therefore request the Federation to do the needful by ensuring that the Committee is properly composed and reduced to a reasonable number that can be funded; and have the legality to function and discharge its statutory responsibility without further delay."
Source Daily Sports
Posted January 11, 2018
---
You may also like...

Gombe United defender Uzama Douglas shot dead

Di Maria Fires PSG into French Cup Semis...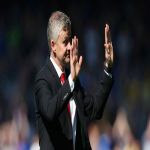 Solskjaer Sorry After 'Unworthy' United Slump at Everton...

Ex-Bendel Insurance Star George Omokaro Dies as Football...

Tyson Fury targets three big fights in 2018...