The glitz and glamour of Nigerian Awards for Sporting Excellence
By Daily Sports on December 4, 2017
Views: 12,269
YES, we went, saw and conquered! These were the words that enveloped me shortly after the maiden edition of Daily Sports and Prime Sage International event came to a very resounding close. The much publicised Nigerian Awards for Sporting Excellence (NASE) took place on Saturday, December 2, at the Lagos Airport Hotel, Ikeja with a hundred and one percent attendance, confirming it as Nigeria's biggest sports awards.
To be frank with you in every sense of the word, it was marvelous to behold. The awardees and guests were present and I was like, God you are so wonderful; is this our awards night that has this full house? You know when you are an organiser or one of the organisers of an event, many things would always crop up in your mind mainly to be or not to be. So several things ran through my mind. We organised an event that drew people, I mean men and women of substance in the industry and even beyond. NASE was a huge success to say the very least. You would know how I feel as you read between the lines. In short was overwhelmed by what I saw. It has never happened to me in recent times. Not that I was doubting if people would come or the awardees would respond in such a large number, no but you know the fear of the unknown would always creep into your heart and force it to beat faßter when it does not really need to. It happened to me as the countdown to NASE drew near. A great relief it was when we posted an outstanding event. Every segment was fully represented. Even the prestigious band of the Nigeria Football Supporters Club was on hand to add colour via its famous musical renditions aside the comedians that held the lively audience spell bound with rib cracking jokes. The atmosphere was electrifying as there was no dull moments all through the august event. The interludes were like concert as everyone cheered, clapped and had great relief making the evening event worthwhile. The story of NASE is a continuous one as it cannot be fully told in one edition due to its rich features. I will not bore you with long list of who was present and all that as photos from the event will tell that story. I will not also recount sweet accolades that characterized the event from the personalities that graced it and the awardees in that sequence. It was an event that shut me up. It's attendance, which was a clear testimony of its acceptance caught me napping. Not that I did not give NASE any chance but because it was the first outing. Although attendance of all the awardees were confirmed and their assurances received, you know human nature and fear.
The bottomline today is that the event has taken an important space in our yearly calendar. It has proved to become a success baby right from the day of its birth. A lucky baby of note. The first outing remains a success story and people have come to say yes! to it and went further to endorse it. We have taken it upon ourselves that nothing would stop us from marching forward because there is a hand of God in this first NASE outing. I owe this to you all out there. Everyone that contributed in one way or the other to make this dream come through. It was excellence at its best. It was colourful. It was a great opportunity in display and we have grabbed such with our two hands.
The audience was grand and august. NASE has come to stay by His only Grace. You can read between the lines that the success of the event rubbed off handsomely on me that I am almost short of words. This is where we will anchor this week. Discussion continues on Twitter, WhatsAPP, Linkedin and Facebook. I will crave your indulgence to give me some good measure of respite or break on telephone conversation so I can concentrate to do stories and monitor events around the world also. Much Love for you all.
My last line: All of you dear readers that accused me of not inviting you over for the event, I accept the responsibility but would inscribe here that you are stakeholders in this project and so don't need anybody to invite you over. God spare our lives next year, you must be there to witness what has overwhelmed me. Keep shooting hard, till next week!!
Source Daily Sports
Posted December 4, 2017
---
You may also like...

US Open: Karolina Pliskova cruise to quarter-finals

World Cup 2022: Suppressed report into corruption allegations...

Falconets are not fully prepared for U20 Women's...

Warri Wolves end MFM's 4-match unbeaten run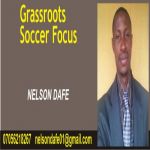 Jun Cup Football Competition For Under-16 And Under-12...