Shane Mosley hangs gloves
By Daily Sports on August 18, 2017
Views: 1,237
In a long overdue decision, 45-year-old former 3 division world champion "Sugar" Shane Mosley has announced his retirement after 24 years as a pro.
Mosley is about to turn 46 next month, and he's been dealing a number of injuries that has slowed his great career.
Mosley hasn't fought in over a year since losing to interim WBA World welterweight champion David Avanesyan by a 12 round unanimous decision on May 28, 2016.
Mosley was surprisingly competitive in that fight, but only because of how poor a fighter Avanesyan turned out to be.
Mosley had lost 6 out of his last 12 fights dating back to 2007. It was thought by some that Mosley would return back in 2012 after he was soundly beaten by Saul Canelo Alvarez by a 12 round unanimous decision.
Mosley had 3 out of his last 4 fights at the time, and he had dodged a 4th loss with the judges giving him a 12 round draw against Sergio Mora in 2010. Many boxing fans thought Mosley deserved to lose that fight too.
"I decided that I'm older now. I'm not the same as I used to be, so I need to let it go as far as me trying to compete as a fighter anymore," Mosley said to ESPN.com.
"I'm definitely always going to be around boxing. I'll still go to the gym and show people stuff, help them out. I still love boxing. It's still my life but just not as a fighter anymore.
"Mosley had a good career with wins over Oscar De La Hoya [twice], Antonio Margarito, Wilfredo Rivera, John John Molina, Phillip Holiday, Jesse James Leija, Golden Johnson, Antonio Diaz, Adrian Stone, Fernando Vargas, and Ricardo Mayorga [twice].
What's unfortunate was how Mosley had no staying power at 147. After beating De La Hoya by a 12 round unanimous decision in their first fight in 2000, Mosley did very little before he was beaten by Vernon Forrest in back to back fights in 2002.
Mosley's retirement from boxing follows the other recent retiring of Robert Guerrero, Tim Bradley and Wladimir Klitschko.
"What happened was my arm is breaking down, my knees, shoulders," Mosley said. "My back is starting to break down. My body is telling me I'm older and I can't do it at 100 percent. I can't see myself fighting again. I'd have to say I'm retired."
•Photo shows Shane Mosley.
Source Daily Sports
Posted August 18, 2017
---
You may also like...

Arsenal defender Koscielny to miss World Cup after...

2019 AFCON: Super Eagles Clear Favourites in Group...

Russian internationals charged with hooliganism

The Challenge of Equality and Freedom of Contracting...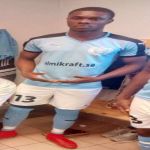 Red-hot Durugbor hits goal number 7 in Sweden...