Amaju Pinnick is a traitor; he must be tamed: Gara Gombe
By Victor Enyinnaya on March 1, 2017
Views: 2,972
Former Gombe State Football Association Chairman, Alhaji Gara Gombe Ahmed Shuibu, has called on the Federal Government through the Minister of Sports, Solomon Dalung to stop the over bearing influence of the President of the Nigeria Football Federation (NFF), Amaju Pinnick, for nominating himself as candidate for CAF Executive Committee election and also for his inability to notify and get the nod of the government.
He said in a telephone interview with Daily Sports that Amaju not only boxed himself into this corner but also breached all existing rules that govern the nomination of a member to vie for election in international body and so must be stopped by the Minister whom he never regarded as his supervisor.
Gombe further described Amaju's action as unbecoming of a subordinate and must therefore, be called to order this time around. He has once demonstrated his disregard for the government of the day and the only way is to stop him and his likes.
"Anybody that is not biased would no doubt condemn this unwholesome attitude of Amaju and his outright disregard for the constituted authority. He has no respect for Barrister Solomon Dalung and his office as the Sports Minister, His outright rude behaviour must be put in check without any further delay," he insists.
The former executive committee member of the NFF recalled that what prompted the government to stop Ibrahim Galadima from contesting same position years back in Egypt was not as grievous as what Amaju has done.
"His struggle to get into CAF is not for the benefit of the country rather it is as usual based purely on selfish reasons. He is known for his arrogant posture. He is trying to use CAF position as an exit door after putting Nigeria football in this big mess. He should be compelled to clear the acidulous odour. He should not be allowed to escape after polluting the air seriously as it is now and ran to another position for safety purposes with FIFA President, Infantino's conspiracy theory in his avowed mission for Africa conquest via the March 16 CAF polls."
According to him, the former Delta State FA boss believes in using distorted means to climb to high football position just as he did to grab NFF top spot as the highest bidder and sadly the resultant effect is what the country's football is ripping today.
"Amaju has been behaving like a lord unto himself as if he has no superior officer. He has often times gone off the mark, which at the end of the day brought the game into disrepute and he goes scot free.
"His appetite for position remains unquenchable and only this government he has never for once deemed fit to consult before making important football pronouncements or enter into any agreement with bodies like FIFA and his fellow FA Presidents in Africa. His tail must be cut now. He is also someone that believes in the use of money to achieve his ambition as was the case in his election about three years ago in Warri, Delta State. He is at it again and Dalung has only this opportunity to tell Amaju that he is his supervisor.
"The Minister should know that Amaju has not only eroded his power but has also severally undermined such. This is the chance for him to restore dignity in the office of the Sports Minister as it used to be. He must ensure he salvage this situation if he does not want the little respect he has left squandered, he must come out decisively today and sit Amaju down where he ought to sit," Gombe said.
The former Adviser on Sports to the Kano State Government added that for Amaju not to know the position of the Federal Government on CAF elections and he went straight to grant interview with CNN where he took position on which candidate he would vote for, is enough to ensure his impeachment. "He acted as if there is nobody he takes instruction from as he blindly and arrogantly acted that way, he must be punished for disobedience to constituted authorities. Government spend lots of money in football, therefore Amaju does not own himself.
"What was the offence of Galadima that prompted the Federal Government not to back him? Amaju has done triple of such. He nominated himself without the notice of the executive committee members. He is such person that influences little minded people around with inducement and that was why some NFF members are singing his praises now. But someone like Sir Chris Green that knows the implication and gravity of what Amaju did by dragging Nigeria into the unholy alliance still ask questions. It is absurd and he must be thought some bitter lesson for looking down on the government of the day.
"He insists that though Issa Hayatou has over stayed on the CAF number one seat, he tried to improve African football to the best of his ability. He has charisma even at his age than the so called Ahmad Ahmad FIFA President is instigating against him and his executive committee members. African football does not need a lame duck boss which the Madagascan Ahmad Ahmad represents. The big question is what is his country's pedigree in the game since he became her President? Absolutely nothing to show and such individual is who FIFA headquarters has instructed Amaju and gang to queue at his back. Madagascar remains an outsider in African football at the club and national teams' level. That is who Amaju is campaigning for on behalf of the Federal Government without clearance. What an insult to the collective physic of all of us. The only thing good enough is for Dalung to tame him," Gombe suggested.
•Photo shows Gara Gombe.
Source Daily Sports
Posted March 1, 2017
---
You may also like...

Kayode Odejaye joins fifth tier club in England...

Conte and Chelsea semi conflict reflects poorly on...

Aguero commits to Manchester City •No plan to...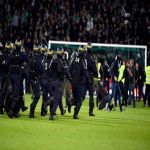 Pitch inversion halts Saint-Etienne, Lyon match

I can't explain terrible 3SC display - Fabiyi...