Why Ogba should not only resign but apologise to Nigerians
By By Julius Ogunro on September 5, 2016
Views: 6,604
I have been on some sort of sabbatical from sports. The last time I commented seriously on the happenings in the Nigerian sports sector was in 2014 when my former boss Mallam Bolaji Abdullahi left the cabinet of former President Goodluck Jonathan as Minister of Sports. But last week, a news item caught my attention. It was a report in the VANGUARD Newspaper with the screaming headline: "Your policies, politics killed athletics, Urhobo tells Abdullahi". But on reading the body of the story, I realised that there was no correlation between the story and the headline. Urhobo was flailing without making any valid point. It then occurred to me that the story may be a very lame attempt by the President of Athletics Federation of Nigeria (AFN), Mr. Solomon Ogba to attack the former Minister using a proxy.
It is understandable why Mr. Ogba would be unhappy with the former Minister. A few days earlier, Abdullahi had called on him to throw in the towel for his disastrous leadership of the AFN which led to the woeful performance of the athletics team in the last Olympics in Rio, Brazil, which is worse than the failure of London 2012.
Any doubt I had about this was erased the next day when Mr. Ogba himself was reported in Vanguard calling for Abdullahi to be probed for the high performance system, which the former Minister began, but was mismanaged after he left office. Ha, at last, the man had managed to muster enough courage and finally shown the face behind the mask!
But, seriously, let us look at the issues that have been raised. In the said story, Ogba made several allegations against the former Minister. One, he alleged that there was some form of mismanagement of funds released for the High Performance System (HPS); two, he claimed the former Minister recruited incompetent people to run the HPS; finally alleging that Abdullahi starved the various federations of funds when he was in charge.
Of course, there is no iota of truth in any of these allegations as they are products of the fertile imaginations of a frustrated Ogba. It was obvious that Ogba never wanted the High Performance System to succeed probably because he was getting grants from the IAAF to build a High Performance System in Port Harcourt. Perhaps, the reason why he conspired to work against the HPS initiated by the Ministry of Sports. I recall that Abdullahi's first choice for the position of technical director was Mike Afilaka, a Nigerian coach who was with the UK athletics team. It was Ogba who insisted that he preferred Americans for the job and was part of the team from Nigeria that interviewed various applicants for the position. Now he has made a volta-face.
His other allegations are bunkum and really do not deserve any attention. The truth is, Abdullahi spoke up because of his interest and love for Nigerian sports. I mean, Ogba has led Nigeria to two disastrous outings in Rio and London, each time the performance was worse than the previous one. To make matters worse, the man does not have any clue or idea on what to do take athletics to the next level. His stock-in-trade appears to be insulting people and making wild allegations to distract attention from his incompetence and bad leadership.
He should know that such underhand tactics won't work anymore. Nigerians are wiser now. In fact, anyone with as much as passing interest in Nigerian athletics knows that Ogba is the problem of the sport and we will not make progress as long as he sits at the helm of the AFN table.
On a personal note, I am, however, not disappointed by his recent actions. It is obvious that Ogba is an ingrate and fair-weather friend who spends 90 percent of his time as AFN President groveling at the feet of whoever the current Sports Minister is. When the APC won the general elections and there were speculations that Abdullahi would return as Minister, Ogba went into over-drive, calling the former Minister and his associates, begging to be let in again into Abdullahi's good books. But by then he was already known for who is – a two-faced Janus!
He really does not have any business running Nigerian athletics. His full-bodied frame and comportment are better suited for playing the role of a clown at children's party. He should not only resign but apologize to Nigerians for his incompetence which has caused us two disastrous outings at the Olympics in London 2012 and in Rio, Brazil.
•Julius Ogunro, whose photo appears alongside this piece, is MD of Peach Communications. He was Special Assistant on Media to former Minister of Sports, Mallam Bolaji Abdullahi.
Source Daily Sports
Posted September 5, 2016
---
You may also like...

Bayern Release Javi Martinez

National Sports Festival: Lack of synergy affecting Calabar...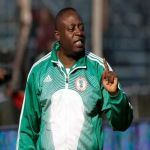 Amodu: Another loss too many —Onigbinde

EPL Players To Observe One Minute's Silence To...

Late Udoji: Kano Govt. donates N3m to family...