Gara Gombe blasts: Solomon DALUNG is on a mission to destroy Nigerian football; he should RESIGN NOW!
By Victor Enyinnaya on May 3, 2016
Views: 7,734
Alhaji Ahmed Shuaibu Gara Gombe, a versatile, astute and virile administrator, means many things to so many people. You'll be right if you call him a crusader of sorts. Foremost, he is fearless and hits the nail at the head, not minding whose ox is gored. His penchant to always call a spade by its name has oftentimes brought him face-to-face with those that have skeletons in their compounds. He is a no-nonsense goal getter. He tells it as it is. A disciplinarian of the first order, he does not take NO as an answer either.
The very busy Chief Executive Officer of PluriFlash has held top administrative positions in National and State Football Associations. He was an Executive Committee Member of the Nigeria Football Federation (NFF) and Gombe State Football Association Chairman, served as Adviser on Kano Pillars FC to the Government of former Governor Rabiu Kwakwanso of Kano State, among others.
After a long chase, Gara Gombe finally yielded to the request for an elaborate exclusive interview with your soar away, rave of the moment, Daily Sports (www.dailysportsng.com). Trust it was vintage Gara Gombe. He revealed so many things that you may not have read anywhere before. Besides, he was emphatic in demanding the resignation of Sports Minister Solomon Dalung, whom he described as a Solomon that talks without wisdom. The hard-hitting Gara Gombe spoke with our MANAGING EDITOR, VICTOR ENYINNAYA. Have a swell time!!
Daily Sports: Sir, what is your take on the setting up of the Ibrahim Galadima Committee on the NFF crisis by the Youth and Sports Minister, Solomon Dalung; is it timely or misplaced?
Gara Gombe: It is really unfortunate, Solomon Dalung does not qualify as a crisis manager, and he mismanaged the crisis right from beginning and is now trying to find way(s) to cushion the devastating effects after mishandling the process of reconciliation initially. Let's see how far he will go. We are keenly watching him and his Mr. Know-All mentality. In short, he bungled the opportunity for us to have peace. He claimed to be a guerilla fighter; regrettably, he cannot even equal a crab fighter. The minister assumes a lot and on that note, he makes so many blunders that have harmfully affected the progress of the game in the country.
Some say that going by the way and manner he is acting, Dalung is seems desperate to smuggle Chris Giwa into the NFF Executive Committee. What do you say to that?
First and foremost, the setting up of the Ibrahim Galadima Committee is very belated; the minister did last what he is supposed to do first because he lacks the capacity and background. As a novice what he thinks he has just done is absolutely right for him. The truth remains that he soiled his hands in the matter too early enough to undermine any genuine reconciliation. Pointedly, he has compromised his position long ago; therefore, he cannot be a judge in his own case – he is already an interested party. I was made to know that he never consulted people that knew what FIFA law says on conventional courts and football. That is the burden he placed on Nigerian football today. He is not vast in this field but has distanced himself from people that would tell him the truth and nothing but the whole truth. He sadly fraternises with sycophants and bootlickers – in short, those referred to as what the stomach will eat individuals that are all over the place soliciting for relevance. They are his close associates and have collaborated to put our dear football in this emergency situation. Dalung has placed the game in ruins. FIFA is keenly monitoring and would step in swiftly if anybody dares tamper with its recognised structure on ground. It is the current dilemma of the minister and his co-travellers today that is affecting our football undesirably.
What will Dalung be thinking about if the Ibrahim Galadima Committee fails to settle this?
Dalung should be thinking of resigning because he has failed and he is not sincere at all. He acted like a sectional leader and it is just a pity. No doubt, he is biased. It is obvious Dalung sides Chris Giwa.
What do you think should have been done?
Fact is that the minister has not helped matters at all since he assumed office. I don't know who his advisers are. However, he started many things on the wrong footing. It is the crux of the matter. After realising it won't work, he would retreat, and before the effects fade away, it must have caused immense damages. It is one of what we are having in our hands today.
Actually, one must acknowledge that the Ibrahim Galadima Committee is composed of seasoned administrators; three of them were former Secretaries General of the association, one a former chairman. It is instructive to note also that during their time I am much aware that they made various mistakes which I will term as circumstantial mistakes that form some of the problems they are now invited to solve. But I am sure if they have the opportunity to go back there again, they will not repeat the same mistakes. I have been informed that the committee is no longer a reconciliatory committee but an advisory committee, which is a better nomenclature. My fears are that those pieces of advice they will give at the end of the day will be beyond the minister to implement. That would be another exercise in futility. It will be a case dead on arrival, if you like.
Sir, are you then saying that the recommendations of the committee won't be far reaching or....?
I am sure the recommendations will have substance and far reaching, probably with potentials to be better than other recommendations on similar exercises preceding this one. I have already pointed out the calibre of administrators saddled with such enormous task and they would not turn in less because of their capability and current knowledge about the modern sport's administration we will have very rich document. The problem as usual would be implementation, which has been our bane in this country and of which we are all aware.
In your candid opinion is Giwa fighting a just cause to promote the game or….?
Of truth, Giwa loves football, and he is a community-based person too. Foremost, he wants to remain visible, especially in sports and football circles, but he is crafty and slippery, which are aggregates of dishonesty. If only he can dilute these traits into honesty, sincerity, focused and purposeful engagement, he has the potentials to get what he wants. For now he is fighting a cause he believes in by all means as if his life depended solely on it; the only problem is that adopting such approach at all cost may consume him. Giwa knows he has been deserted; his only soft landing may be what the Ibrahim Galadima Committee will recommend he should be compensated with. But football administration is a serious business devoid of any kind of sympathy whatsoever. They must be taken into full consideration so as to avoid any future occurrences from complex and crafty people like Chris Giwa. Giwa must sit down and decide what he wants and how he wants to go about it. From the look of things, he is going nowhere. He is an amateur fighter.
What then should be the way out of this impasse?
Hmm! What will bring lasting peace is that we have to either sacrifice the two factions, set up a normalisation committee for two years and fully reorganise our football administrative structure as l don't see any of them blinking and because of the sports minister's initial support to Giwa compromise may elude us. Remember, the minister was supporting Giwa but after FIFA's threat, he claimed it was a pity that he is still hanging on. He has portrayed himself as a man without honour after causing this confusion as a result of his ignorance on one of the sports under his portfolio. This grave mistake has been causing many ripples to the extent that it may cause the country membership of FIFA if care is not taken on how it is resolved. But in Nigeria, taking such most honourable path is alien to us. It has been the unbecoming of Dalung. He has committed many blunders that have set the hand of sports, not only football, backwards.
Let him go because he has caused more harm than good for the game. He has brought more controversy and football will be the best for it with the resignation of this Solomon that talks without wisdom.
What do you think will bring lasting peace to the troubled Football House?
We must first and foremost have a transitional plan towards total disengagement of government from football. Government has no business investing its scare resources in football while many things it is ought to provide to the masses are begging for attention. It was one of the silly dummies full of deceits the past administrators sold to the government for their selfish gains. Today's realities show that it is no long obtainable. Much money extended to the development of the game went into their private pockets. They were more of armchair administrators. It was one of the major reasons why race into even to become an Executive Committee Member has become a farce and dangerous like the politics in the larger polity. There is no accountability for the huge government investment. It is the reason behind the heavy traffic to become the helmsman of the most prestigious football federation in Africa.
Government should start thinking seriously of how to totally stop investment in sports; it has been counterproductive all these odd years. It will make it more competitive. Private investors will always demand for accountability; such would bring out ingenuity on the administrators. The search for sponsors for football will be visited with all vigour and honesty.
Sir, what's your advice for Amaju Pinnick?
To be honest with you, Amaju Pinnick should for now concentrate on the immediate programmes of the NFF, hold on tightly to his congress and continue praying for the good of the game in the country. This is one of the most trying times for the game in the country. Only the toughest would keep going and triumph at the end of the day. I think once he allows himself to be distracted, the enemies within will quickly get in on the slip to continue their quest to derail the sport.
Sir, don't you think that tampering with Amaju-led EXCO will bring down FIFA's hummer on us?
Unjustly yes. FIFA is not against tampering with any EXCO provided it is in line with its statutes and decisions taken by the congress of its members are binding, But in this case we played into the hands of FIFA by the minister's mismanagement and mishandling of the process of reform. He should call Giwa to order and if he fails to adhere to such, appropriate sanctions must be meted out to him. The relevant rules are in the football books. This should not be allowed to drag any longer.
Do you see both parties adhering to whatever the Galadima Committee would throw up?
I don't see the parties accepting the outcome of the Galadima recommendations no matter how good because the minister has spoilt that opportunity. The Amaju Pinnick-led EXCO is having the upper hand and the stance it has taken so far won it more sympathisers.
Why is Giwa still on two years after the polls in Warri, where other contestants lost and let go?
Yes, that is a good observation and question, too. You may not have had the privileged information that some of the contestants withdrew from the race in Warri, some were settled and they kept quiet, others were not genuine contestants. Be that as it may be, he is fighting a lost battle. I salute his courage but he has to stop this irrelevant fiasco and concentrate on other things.
What other things that would enhance the operational efficiency of NFF would you like to recommend here?
We have to enlarge the Congress of Nigerian football, bringing back Secretaries, and Premier League clubs, SWAN, etc, to the Executive Committee. The narrowing has caused us this drag and unnecessary intrigues. Those that did this knew right from the start that it would not be in the best interest of the game. Head or tail Amaju Pinnick will leave that legacy by amending relevant sections to bring back this. History will ever be on his side many years after.
On the foreign coach debate, what's your take?
I will make my position on coaches, foreign or local, known the day NFF IS ready to employ coaches for the development of the game and not for competitions.
Thanks for your time, Sir.
It is my pleasure. Some of us would not relent in our quest in telling the truth as it is for the good of the game. It is the best fair play I will always offer the beautiful game in the globe.
•Photo shows Gara Gombe.
Source Daily Sports
Posted May 3, 2016
---
You may also like...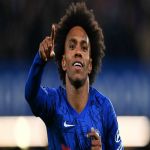 Chelsea Re-open Willian Contract Talks

Tottenham Pip Fulham To Boost Top Four Hopes...

Four contenders given April 11 deadline to submit...

Real Madrid ready to win the Champions League...

Thiem ousts Djokovic for Nadal test