Giwa-led NFF board vows to unseat Pinnick today
By Daily Sports on April 13, 2016
Views: 2,032
The Chris Giwa-led board of the Nigeria Football Federation (NFF) says it will officially resume duties at the football secretariat having informed the relevant authorities of the decision of a Jos Federal High Court.
Giwa told a news conference on Tuesday in Abuja that the board would resume at the NFF secretariat on Wednesday after informing the concerned authorities.
The News Agency of Nigeria (NAN) reports that Justice Musa Kurya of a Federal High Court, Jos, on Friday nullified the election of Amaju Pinnick-led board of the NFF held on Sept. 30, 2014.
The case which was re-listed for hearing on May 30, after it was withdrawn by the Giwa group also restated the nullification of the election and congress held on Sept. 30, 2014 in Warri.
He said it was necessary that the board resumed duties at the football secretariat as files and officials documents were allegedly being taken away from various offices at the NFF secretariat.
"I got information that files were being taken out of NFF secretariat and on Saturday when I was talking to a personality, I reported that matter.
"I personally made a request that the place be secured.
"So, we will be in the secretariat tomorrow (Wednesday) because that is our secretariat; you saw our board members there on Friday, they all waited for me yesterday (Monday).
"As a law abiding citizen, one of the major reasons why we were not there yesterday was because we wanted to get the main order of the court rolled out yesterday and signed.
"We wanted it signed so that all relevant authorities will be served and to God be the glory, that has been done and it is our right.
"As long as the Nigerian law is concerned, we are the recognised elected football authority in Nigeria today; so we will be there (NFF secretariat) by the grace of God."
Giwa noted that part of the reasons his board decided to reclaim its mandate was because of last year's decision of the NFF congress to amend the rules guiding elections into the board of the NFF.
He said that a situation where right was only given to former and present state FA chairmen as well as NFF board members to contest elections on the NFF board was detrimental to football development.
He also dissolved the board of all state Football Associations, noting that their existence was an offshoot of the Pinnick-led board which had been declared illegal by the court.
"Therefore, all state Football Associations stand dissolved; existing board members in the states are free to re-contest their positions."
Giwa explained that they did not go to Court of Arbitration for Sports (CAS) to challenge any election but rather to challenge the letters written by FIFA to congratulate Pinnick.
He said that contrary to reports that their matter was dismissed at CAS, the court only cleared the air on the accusation we levelled against FIFA that it had recognised Pinnick's board.
"We went to CAS for two reasons; one was the letter FIFA sent on Aug. 29, 2014 and the second was the letter Sepp Blatter sent to Pinnick congratulating him.
"We never went to CAS for it say whether we were right or wrong and we never went to CAS to challenge the election of Sept. 30.
"I remember that the chairman of the panel asked FIFA lawyer why that letter was sent to Pinnick because a FIFA statute does not give them powers to do that.
"The lawyer said repeatedly that Blatter gave that letter on his personal recognition as Sepp Blatter, not as FIFA President.
"The chairman also asked the head of FIFA's legal department why he didn't go for the Warri election and he said he didn't know about it.
"I say this before God and the press today that FIFA denied recognising Pinnick before the CAS, take me anywhere because all the presentations were recorded."
He added that Pinnick and his board members had committed contempt having written as NFF President to FIFA after the nullification of their elections.
According to Giwa: "The letter sent by FIFA on April 11 (Monday) has also indicted Pinnick and FIFA cannot intimidate us with ban unless when we go out of the rules; we never flouted; when they talk about not going to court, it is in their statute (article 1.1) and it's even in the NFF statutes.
"If they do anything bad to us, we will challenge them before CAS." (NAN)
•Photo shows Amaju Pinnick and Chris Giwa in fisticuffs during a failed peace meeting.
Source Daily Sports
Posted April 13, 2016
---
You may also like...

Real Madrid 2-0 Getafe: Gareth Bale scores on...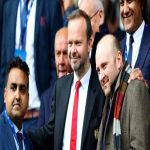 Man United Chief Backs Solskjaer, Hits Out At...

Ligue 1 To Cut Clubs From 20 To...

Ozil Axed From Arsenal's 25-man Premier League Squad...

Klopp says buck stops with him as Liverpool...