NFF is steering Nigerian football to safe anchor —Okumagba
By Daily Sports on October 26, 2015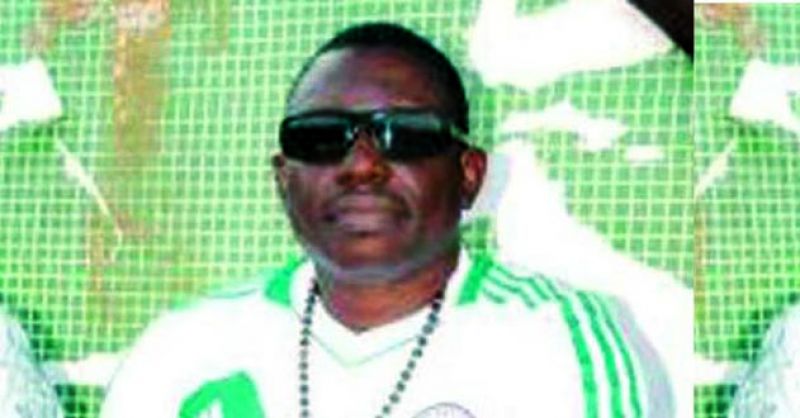 Prince Vincent Okumagba is National Chairman of the Nigeria Football Supporters Club (NFSC). Since he mounted the saddle, he has brought into the fold reforms that have seen its image soar to an all-time high. In this no holds-barred encounter with Daily Sports, the unassuming technocrat discusses with relative ease developments in the nation's football as well as the role of the Supporters Club since independence.
Daily Sports: You watched the two international friendly matches Nigeria played against DR Congo and Cameroun in Belgium. What's your take on the games?
Prince Vincent Okumagba: Well, thank you. I watched the games as you rightly said. The first one against Congo DR honestly, was nothing to write home about, not because we lost 2-0 to them; the Eagles did not play well at all. In all ramifications, many fans wondered if it was the Super Eagles or the second team of Nigeria that played. It showed that we don't have team on ground yet. Lots still need to be done, if we must be thinking towards the direction of being in Gabon 2017 AFCON.
However, little respite came when the former African Champions took on their Cameroonian counterparts. The game was a bit well coordinated compared to the first one. The players quickly got over the shock of the first defeat by Congo and scored three against the Indomitable Lions of Cameroon. Well, as I did say earlier, winning that game should not be mistaken to mean that the Eagles have come. No, far from it! The team is yet to arrive. Much intensive job need to be carried out.
However, l believe that the earlier sanity returns to the team, the better for the rebuilding process. No one can rebuild a heavily divided house. There must be absolute peace and harmony between the head coach and mostly his senior players. He must have a drastic change of attitude towards the players and every other person involved in this task. Nigeria has great potential to make it to the next Nations Cup, if we could put our acts together and harness it to the logical conclusion. Don't get me wrong, I am not painting a gloomy picture of the Eagles. There is a sunny side, if the official(s) of the side can work with the players. There is no how you drop experience for a rookie.
That brings me to the fact that Nigeria still needs Vincent Enyeama in goal. Carl Ikeme is yet to be there. It will take him some while to get there like others. He needs a goalie like Enyeama around him to guide him. No matter what transpired between the Lille of France Safe Gloves and his coach, Sunday Oliseh, there must be a genuine meeting point that must be mid-wifed by the NFF leadership led by hard-working Amaju Pinnick. Yes, it is possible and urgent national issue too.
On Emmanuel Emenike?
Well, if the striker said he is done with the national team, he should be allowed to quit without much controversy tied around it. I, also, make bold to say that nobody should humiliate any player that has served the country so diligently. They should be held high even when it is obvious that we don't like their painful exit. We should be careful not allow our emotion to resort into outbursts that would portray the concerned player(s) in bad light.
Nigeria just celebrated 55 years as a politically autonomous nation. Are you at home with the level of football development since self-rule?
Honestly, I would not say that I am completely contented. However, we have to give magnificence to God having come thus far. There is no misgiving that football in Nigeria is rising. Yes, there have been changes here and there. It is my belief that, with these adjustments, the nation's football will fly higher. Having said this, I want to tell you that I am not entirely satisfied because we are all witnesses to what has been happening in our football in the last two years. After we won the Nations Cup in 2013, I thought we would take it up from there, but it seems our football has been nose diving ever since. We were not able to defend the title this year; and just recently we had a new coach whom we hope will lead us to the promise land we are all looking forward to.
Take critical look at the current executive committee of the NFF: are they competent enough to steer the nation's football to safe anchor?
Without much ado, the current NFF executive committee led by Amaju Pinnick is doing well. When you look at what they are doing with the local league, you will appreciate their desire to reposition our football, because when you have a very strong league, it will impact positively on your national team which I believe will happen very soon. So, I am really impressed with what the board is doing. You can see that the level of our football has gone up and our league matches are now televised live, while national team coaches have been sent to London for refresher courses. With these innovations, teams can now win away matches, which did not happen in the past. You should also not forget that the current NFF board comprises young and vibrant men full of ideas. I believe our football will eventually blossom.
You have led Nigeria Football Supporters Club to various countries, supporting the national teams. Can you share some of your pains not seeing the Super Eagles play in the last AFCON in Equatorial Guinea?
To say the very least, it was like a very bitter pill to swallow. Painful as it were missing out at the last AFCON, especially as defending champion. I thought we were going to defend the title or at least get to the semi-final. But sadly, we failed. Our inability was agonizing and brought dilemma to our members. But I don't want us to remember it. You know that when your team is not playing well, you won't be happy; or when they are supposed to score goals, they won't score, as was the case when we went to Tanzania, you won't be happy. But this is our country and we have to keep on supporting the team. Although there were a lot of pains, as I said earlier, but we as members of the supporters club will continue to support the team, whether they are playing well or not. I believe that with our support and commitment of both the players and the coaches, the team will do well. But most importantly, we have to give the coach all the support and enough time to perform before we start judging him so that if at the end he fails, he will take the blame.
What should we expect from the Supporters Club?
We at the leadership of the supporters club want everything to be new. You know we have a new government in place that preaches change. As members of the supporters club we must be innovative. We must come up with a new concept that will endear us to the nation, and to the football family we are supporting. For us, you should expect that we are going to fine-tune a lot of things in the Supporters' Club in a very short while, which I hope will impact positively on the club.
What satisfaction do you and members of the club derive in supporting the national teams?
What motivates us is the love we have for our country. We know that we have no other country except Nigeria; that is why when any of the national teams is playing, we are always happy that our team is doing well. Although it costs us money and time, but we believe that's what we can offer to our country and we are happy doing it. Supporters club is recognised all over the world, and when you wear the green-white-green, it gives you joy. So we are like ambassadors of this country.
What is your message to the Super Eagles?
My message is that they should be united and play well to make the country happy. They should realise that when they are in the field of play, they are representing about 170 million Nigerians and, as such, should play to make us happy. I remember vividly in those days when Super Eagles when Nigerians look forward to watch the Super Eagles because then they play good football. But for some time now, it has not been the same. They should put aside their personal differences and take a cue from the Supporters Club, which at 57 and older than Nigeria is one big and happy family. Though we came from different diverse cultures with different languages and religions, we are Nigerians. That is what Supporters Club preaches, which we want the players to imbibe.
•Photo shows Prince Vincent Okumagba.
Source Daily Sports
Posted October 26, 2015
---
You may also like...

Chelsea Youth To Face Bayern Amid Injury Crisis...

Ranieri reveals Musa admiration

Rangers manage slim 1-0 win over Akwa United...

Professional boxers to compete at Rio Olympics!

Tyson Fury sets Anthony Joshua ultimatum: 'If it's...