Ex-Man United Captain Vidic's plan to be a real manager
By Daily Sports on March 13, 2018
Views: 1,019
He was a lion in the heart of defence for Manchester United and an integral part of the soul of Sir Alex Ferguson's successful late era of management. Nemanja Vidic, no nonsense. Nemanja Vidic, uncompromising. Nemanja Vidic, the aggressive and calculating stopper that acted as the perfect foil for the intelligent sweeper Rio Ferdinand.
But unlike Ferdinand and other retired football heroes who have found the comfort of football punditry, making more money off criticising the efforts of players and coaches, Vidic is putting himself in the line of fire by opting for the exciting but potentially destroying world of football management.
Vidic is not one content to just talk. He has rejected repeated offers to become a pundit. He wants to get in the field to show his philosophy of coaching and management.
The 36-year-old former Serbian defender who is nearing the end of his Football Association Pro-Licence course, wants to see a return to the era where managers have more powers than players, as he feels that in the modern game, players have become more powerful than managers.
"There are no more managers any more, just coaches now," said Vidic, who spent eight seasons at Old Trafford under Sir Alex Ferguson.
"I would like to be a real manager."
"Alex Ferguson made it look easy," he added. "You watched him and thought: 'I would like to do that.'
"But then I went to play in Italy. Then it didn't look the same."
"Players definitely have the power now."
As part of his pro-licence course, Vidic is doing a research on the changing face of football management in the 21St century.
"I think the role of the manager has changed – he is becoming a coach," he said.
"Players want the money and have more power – more power than the managers. It could frustrate me.
"When I was a player I don't think I used my power. I didn't think I was above the manager; I respected the manager. "When I was a player I don't think I used my power. I didn't think I was above the manager; I respected the manager. For me, it was coach, manager, CEO, owner.
"I don't have experience to talk about players from a manager's view, but the players definitely have the power now."
Vidic acknowledges the difficulty of the line of job that being a manager entails, but he has never been a man with a timid heart.
He said: "I understand it is difficult – but I have played football all my life. For 28 years, I had about 15 managers. It's what I know.
"I am used to the stress. Winning, losing, happy, sad. You want to win again. You want to prove something. You want to make the difficult decisions and test yourself."
With United miles away from title-bound Manchester City in the domestic league of England, Vidic revealed he always thought Man United had a better chance of winning the champions league.
United hosts Sevilla in the return leg of their round of 16 tie on Tuesday after a 0-0 draw in Spain.
"I know the Premier League is bigger - but I think the Champions League could happen," said Vidic.
"When the season started, I thought United had more chance to win the Champions League than the Premier League because the players they signed didn't have the time to fit in.
"Also, Mourinho is a tactical coach and knows Europe very well.
He knows there are going to be scrappy games and how to get through them.
"To win, you need a bit of luck – but there is a chance to get to the semi-finals or final. You never know. And if you win a Champions League, the players start to believe.
"Phil Jones, Chris Smalling, they will look different to now. It is about the perception of the people – you have to win.
"Players then believe more in themselves. They start to perform better."
Source Daily Sports
Posted March 13, 2018
---
You may also like...

Wembley 'best place' for football — Pochettino

Southgate says Premier League's early start affected players...

We want to start NPFL victory celebration in...

Infantino 'sad, surprised' at Allardyce exit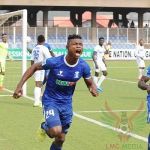 NFF mourns with family of slain Izu Joseph...