Resolve Foreign Technical Adviser's Matter Quickly Nwosu Appeals To NFF
By By Ogie Osagie, Benin- City on May 28, 2022
Views: 133
Ex-international and member of the winning Africa Cup of Nations football summit in 1980, Henry Nwosu (MON) has appealed to football authorities in the country to, in the interest of the game and its teeming fans in the country resolve whatever that is the bottle neck around the immediate employment of a foreign technical adviser for the Super Eagles.
In a telephone chat from his country home in Orji, Owerri with Daily Sports Correspondent he restated the desire of every football fan in the country to have the reconstitution of the technical bench of Nigeria's flagship team which he says is over due to come on stream.
"There have been conflicting reports on the situation for the employment of a technical hand for the team. We must all have anywhere in our minds that Super Eagles deserve a classical technical adviser who has coached at the highest level of the game. Presently the team needs a complete turnaround in order to harness its full potentials. We all know that the fortunes of the Super Eagles side have been steadily in decline and so it won't just be a technical adviser for the sake of it," he insisted.
Nwosu who fears if anyhow foreign coach is employed the devastating effects it will rob off enduringly on the Super Eagles, then called on all critical stakeholders to rally round any course which would be for the overall best interest of the country than the short term that would benefit just a few as always.
"The status quo must change this time since the Federal Government through the Minister of Sports has directed that those more experienced, exposed and technically sound coaches penciled down by the technical and development committee should be given level playing ground so shall it and even added that Federal Government would pay the short fall of his salary, why this dragging again. This delay is not in the best interest of the team. The 2023 AFCON group qualifiers is out and Nigeria is drawn alongside Sao Tome, Sierra Leone and Guinea Bissau and as simple as this grouping may look on paper, we should be wry that playing all so called minnows can prove most dangerous big team even now that no team will fear our Super Eagles as it is presently. Therefore, a technical hand issue has to be quickly settled so that he will get cracking. We must not struggle to qualify," he re-echoes.
Source Daily Sports Nigeria
Posted April 28, 2022
---
You may also like...

Dortmund Confirm Signing Of PSG Defender Meunier

Ronaldo And Ramos Wanted Me At Real Madrid...

Benfica Edge PSV To Boost Champions League Hopes...

Super Eagles not yet ready for World Cup...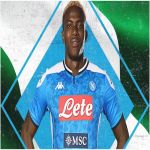 Osimhen Nets Twice To Send Napoli Top Of...