Roger Federer defies logic, he is not normal - Tim Henman
By Daily Sports on July 7, 2018
Views: 342
Former world number 4 Tim Henman believes that Roger Federer's return to the top level is even more important now that his other rivals, who are younger than him, have been struggling with playing great tennis again after injuries.
'You've only got to reflect on what's happening now - Andy (Murray)'s struggling to come back, (Novak) Djokovic struggled to come back and (Rafael) Nadal has had his injury problems. So to take that amount of time, there was a big question mark,' Henman told Express .
'Likewise to then go straight into a Grand Slam [the 2017 Australian Open] and beat three or four top-10 players to win, it defies logic. Those top guys are not normal. What he and Nadal have achieved is just phenomenal. I think the six-month gap was excessive but I think what he does with his schedule is very clever and very smart.
Not only does it keep him fresh physically but it keeps him fresh and eager mentally.' Henman also recalled the 2008 Wimbledon final between Nadal and Federer: ' The first final that I commentated on was 2008 and it was probably the best match I've ever seen.
If you'd have said at that time that in 10 years' time the two favourites were going to be Federer and Nadal, you'd have said, "Come on? really?" And I think that emphasises the point of how good they've been to stay at the top of the game and obviously win so much in the past decade.' Speaking about this year's scenario, Henman added: ' The weather conditions could favour Nadal a little bit.
Courts are going to be as hard as ever and the ball is going to be bouncing higher so that could help him.' (Tennis World)
Source Daily Sports
Posted July 7, 2018
---
You may also like...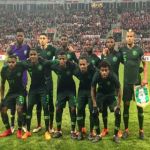 Nigeria, Uganda clash on Tuesday (Nov. 20) in...

Arsenal chief Ivan Gazidis earmarks Mikel Arteta as...

Zidane extends Real Madrid stay

I've shut critics up – Ibrahimovic

NFF AGA fixed for November 13 in Uyo...