Examining Justice Ayotunde Phillips' election into FIFA Ethics Committee
By Daily Sports on May 15, 2017
Views: 27,440
Daily Sports, like several other newspapers, last week went to town, celebrating the election of Honourable Justice Ayotunde Phillips into the Ethics Committee of World Football Governing body, FIFA.To say the least, we applaud the development which, instantly marked a watershed in our football development. Without much ado, it is significant because a country that is adjudged to be one of the most corrupt in the world, has against such odds, set the tone for other good and enduring things to come.
Let me say this for the records, it is a fantastic beginning for the tenure of the NFF President, Amaju Pinnick as CAF Executive Committee member. As this column did point out in its previous assessment of Amaju, as the proverbial 'Cat with Nine Lives', it vividly said that in the next election into FIFA Executive Committee, he would be one of the new members in the most prestigious committee in football world. There will be another clean sweep to rid the body of the remnants of the last administration.
We did observe also that he positioned himself well during the CAF polls which prompted FIFA supremo, Gianni Infantino to quickly wove the entire strategy that rooted out Isa Hayatou around him. His move to team up with FIFA leadership against the former CAF helmsman was strongly bargained. Remember, he is a fantastic and accurate reader of where the pendulum would swing to. Some of the resultant effects are coming.
The election of Justice Phillips into one of FIFA's essential committees is one of such. Many more are on the way. Nigerians including him will be on duty during the FIFA World Youth Championship (U-20) coming up later this year, a Nigerian referee will be on duty. His regime is just starting in CAF, and this, is a pointer to how the whole day would look like.
Let me share this with you. What the propaganda-ridden APC government at the centre that promised to fix Nigeria's problems in one swoop could not bring to the table for her citizenry for almost two years, has been done by Amaju Pinnick over just a few months in CAF and FIFA. I'm one incurable realist that believes that no matter how much propaganda and media campaign used as tools for governance, the 'success' may be temporary. Yes, Amaju is using the media to debunk and chase his opponents near to the grave, he detests propaganda. May be he has learnt a bitter lesson from the deceits propaganda can drag its users into. Please don't ask me for details. This write up is not for such, it is to highlight what hard, thorough bargaining and acumen can bring to the table of the country and in a way launder the not too good image of the country. It is our core value, if you like tradition, in Daily Sports, to give honour to whom it is due, criticise and proffer solutions where necessary.
Amaju's tenure will bring more, I pray he would avoid completely, distractions and other possible 'Bring Him Down syndromes that will definitely come his way on the road to getting a full grip of Africa nay world football. In short what former President Obasanjo would prefer to call banana peels. Nigeria will get her fair share in all ramifications in the most profitable sport in the globe. He has started on sound footing. Justice Phillips election is not only a seal of confidence in the suavity of our women, it also tells vividly, the story that the ugly past has been put behind us for good. An era where me and only me, ruled the landscape of the nation's football until the abrupt end of the notorious era. Though Amaju benefitted immensely from such crude way of administration, one ovation trailing him is that he became the topmost Nigerian in Africa's apex football governing body pronto who distanced himself from past abnormalities but embraced universally accepted standards of merit no matter who is involved.
I have unflinching faith in Honourable Justice Ayotunde Phillips for her sterling position in the bench and this international assignment won't be an exception. Methinks she will bring her vast experience to bear when the tide is high. Though, I have not met her before one on one, except chance meeting when she was the Chief Judge of Lagos State, the day I visited the courts and someone pointed at her and told me who she was. I'm also told she is intelligent, suave and disarmingly unassuming. My mutual friend further says she is what we call, beauty and brain. My instant response was, 'you don't need to tell me'. The fact that she reached the pinnacle of her career corroborates all these attributes and more. I remember adding that she will as usual give her best in Lagos State Electoral Commission.
State Electoral Commissions have very big question marks and credibility problem all over the country because of the way and manner results from the Local Government elections across the nation have turned to be. Above all, she is a credible, learned Justice and would take such credentials to FIFA's sensitive Ethnics Committee. She will be sitting among the best brains and reliables in the world to perform the duty required of them. It is no mean milestone. She will again display her reliable ambassadorial instincts for the love of country and the game. It was celebration of astuteness and candor.
Join me to read below, Daily Sports approach to the joyful landmark story:
The string of groundbreaking feats with regards to global recognition for Nigeria in world football continued on Thursday with the election of immediate past Chief Judge of Lagos State, Hon. Justice Ayotunde Phillips as a Member of the highly respected FIFA Ethics Committee.
In what amounted to another remarkable accomplishment for Nigerian football, Justice Phillips' election was ratified by the congress of FIFA at its 67th Congress in Manama, Bahrain on Thursday.
This is further evidence of the rising profile of Nigeria in International football circles as shown by the recent appointments of the NFF President into important CAF and FIFA roles.
The new FIFA Ethics Committee (Adjudicatory Chamber) is headed by Vassilios Skouris (Greece), the longest-serving President of the European Court of Justice. Fiti Sunia (American Samoa), a Judge and former Attorney General of American Samoa, is deputy chairman."Other members are Mohammad Ali Al Kamali (United Arab Emirates: Asia), Aivar Pohlak (Estonia: Europe), Margarita Echeverria (Costa Rica: North and Central America and the Caribbeans), Jack Kariko (Papua New Guinea: Oceania) and Flavio Zveiter (Brazil: South America). Justice Phillips is currently the Chairman of the Lagos State Independent Electoral Commission (LASIEC).
Justice Phillips is a round peg in around hole. She will be Nigeria's eyes and mirror showcasing to the world that the most populous and largest concentration of black people on earth is not all known for corruption.
She will further prove that it is a nation peopled with hard working, prudent and highly intelligent individuals without no exception of blacks legs which is how it is in other parts of the world.
Daily Sports celebrates this great Amazon of our time. We will continue to be there for sincere Nigerians and expose those idlers that ripe where they did not sow. Well-done Justice Phillips! Our discussion continues in WhatsApp, Twitter, Face book and in serve. Keep shooting hard, till next week!
Source Daily Sports
Posted May 15, 2017
---
You may also like...

Marotta confirms imminent Dani Alves exit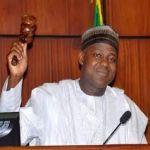 Reps call for postponement of federation elections

I want to end my career in England:...

Abuja 2018: Okowa promises Team Delta N1m per...

Brazil-Colombia friendly for Chapecoense confirmed for January 25...