Rangers' worrisome, scrappy showing
By Daily Sports on February 27, 2017
Views: 26,464
Before we settle to read this week's topic on Rangers International FC of Enugu, one of Nigeria's CAF Champs League representatives, Rivers United is the other club in the same tournament.
I don't have diamond; silver, gold or bronze to offer you beloved readers for your usual overwhelming reading of last week's human interest story on our own Paul Hamilton aka Wonder Boy.
My joy is not only that there was a huge reader's traffic but the SMS messages that came with no kind words for lame duck and highly compromised NFF leadership. Most of you reassured me that a patriot like Hamilton that gave his all for the service of the nation would not be easily forgotten. Succour, you chorused would pour in.
I trust you all; my joy would only know bounds if the coach successfully undergoes this new life nature suddenly imposed on him. The rehabilitation and the new realities would come all at the same time. I had earlier appealed to him to take all that happened as a way of life. I believe he would come stronger and better. Bravo Coach.
Honestly speaking, I had vowed not to be drawn into the murky waters of Nigerian politics of power struggle, intrigues, lies, hostage taking of truth in and out of Aso Rock Villa. But for my readers sake. Fact is, Buhari and his dare devil cohorts have finally collapsed Nigeria. Nigeria is now a sad commentary and laughing stock before the international community…pity!
However, my consolation is, history will judge very harsh, those that criminally collaborated and forcefully aided and abated Buhari into Nigerian Presidency despite knowing fully well he is a nightmare of the first order. They won't go scot free. Those greedy fellows won't escape punishment and curses near destitute, hungry and famine ridden Nigerians are raining upon them every second. But the reporter believes vehemently that time will set Nigerians free sooner than later. I digress.
No jokes, it is not normal time for Nigeria; all facets are endangered. Football, at the club and national levels are nearing extinction. The game's pundits have often times, attributed the abnormality to the emptiness of the administrators. And this has hampered the development of the round leather sport.
On the other hand, analysts posit that poor funding of sports generally in the country plays yet another negative and significant role in the steady decline. From whatever angle you may approach it, I will say without any prejudice that the two mentioned here are few factors.
Rangers international scrappy form since the current Nigeria Professional Football League season kicked off has been nothing but dismal. Close followers of the flying antelopes have been on their edge anytime their team plays, be it on home ground or away soil.
This writer has been an ardent supporter of Rangers International FC since my days in Government College Umuahia, Abia State in the early 1980's. Even as a junior student then, I watched the team's matches in Enugu, Owerri, Ibadan, Bendel, Asaba against once dreaded Asaba Textile FC, Rovers of Calabar etc.
Rangers are mass movement of all times. The records of Daily Sports deep work on Rangers are there, the portal single handedly took it upon itself to invest much energy, time, ink and other soft and hardware writing on this team, went extra mile to interview patrons, leaders of delegation to the club's international matches in those days, all in an effort to bring back memories vividly for the present administrators and managers of offor Ndigbo to tap from.
I have often times said that the resilient spirit of Rangers should be imbibed wholesale by this crop of players.
They should know that they have a date with history because of the name Rangers. They were the set that broke the 34 years jinx that held the team like a spell, it is against this inflammable ground therefore, that the boys must wake up from their deep slumber, face the realities with the resilient Rangers spirit. The lmama-tutored lads should bear in mind that Enyi Rangers, bu Umu Rangers.
Fans have equally argued that this is not the Rangers that won the highly contested NPFL crown last season. According to many diehard pundits of the oldies in the nation's league, the team's showing so far, smacks of the unbelievable that their victory last season could be a fluke. They insisted that a situation whereby the Coal City team plays colourless games, leaves sour taste in the mouth. They called for a drastic change of heart, approach if the side would continue to advance for the good of the game.
We don't need to look too far to easily observe that Rangers have been on the lowest ebb. The players are feeling like betrayed. The cash is not following as it does with teams that play in the elite club championship in the continent. Their morale is low. That is obvious from the way and manner they play their games.
Confirmed report had it that the players were stranded and starved of cash during their first leg game against Algeria. It was the result that saw them through to the next round. The change of guard that brought Christian Chukwu as Chief Executive of the team remains another factor that sharply divided the team. Players' sadly still pitch loyalty with the old order. Likened to saboteurs and traitors, I did hear you whisper into my ears.
That is the cold war going on in the team as at the time of piecing this together. Truth is that the Enugu State government has not been able to fulfill adequately, their own side of the bargain.
Rangers are not finding it easy in both NPFL and the CAF Champions League. We saw how it sweated through the pants to hold the Algerians. The match against Lobi Stars remains better imagined than described. It was the same story when it played her outstanding game against MFM in Lagos last week Friday, the NPFL defending champions were near shadows of themselves despite three changes by the coach, the more youthful Lagos based team defeated the Flying Antelopes.
The country's flag bearer in the premier club championship in the continent, failed to get its acts together to pull at least a draw.
My fear is, if the team fails to rally itself together before its first leg game against Zamalek in Egypt, its exit in the prestigious and lucrative CAF Champ League would be in sight. There are no two ways about that. The Egyptian side is no push over. Zamalek is not new to this tournament. They are multiple champs and ever ready to take any ill-prepared opponent to the cleaners. From the look of things, Rangers looks like it, except there is new spirit, commitment, focus and determination to get going. Their games against Algeria and Lobi in Enugu left zero hope.
Against MFM, the lads were lacking in character and tenacity, prompting this question: Where is her refuge?
We won't weep for the team, never! What it is facing presently is self inflicted injury that would consume it if the dramatis personae fail to play to the rule and be honest with themselves.
They knew where the low morale in camp is coming from. The truth must be told. The leadership of Rangers is weak. Governor Ugwuanyi is not funding the team well. I made many suggestions in earlier write ups including a personality interview with Prince Isidore Oduah who is the Patron, who Rangers meant more than FC, we told them how best to campaign in the championship.
We also told Ifeanyi Ugwuanyi that if there is another Nigerian club that would lift the trophy after Enyimba, is Rangers because they remain till date, the only Nigerian team that attempted to win the crown after as many as five times when it was African Cup Club Championship. But as usual, those who reap where they never sowed have infiltrated Ugwuanyi and sold failure dummy to him and he fell for it.
From whatever angle you may be looking at this cross road, where Rangers is now, their elimination by Zamalek is imminent unless something drastic and urgent is done to salvage whatever remains. Imama is ready to leave the team any moment. It is not his fault, he is in the game to better himself, family and dependants.
Sadly, the Nigeria Professional Football League (NPFL) champions built its scoring strength around Bobby Clement, he was on target against Lobi and MFM.
I don't know how it recruited but would readily say, it seems faulty. They have not changed from the recent scrappy posting to outright winning ways. Zamalek is a no nonsense side and are ready to mess you up at any given moment, unless there is urgent change of attitude, Rangers may be primed for such humiliation. Inasmuch as I don't wish them that, It must first of all walk itself out of the present circumstances it boxed itself into. JS Saoura of Algeria whom it eliminated via away goal aggregate came to defeat Rangers but the homers managed to remain afloat. The Flying Antelopes were less than convincing once again at the home ground their faithful now call The Cathedral.
The urgency and worries of Rangers easing out from the bottom-four still lingers. The Flying Antelopes just could not conjure anything. It's all sad commentary, making the club to be on the verge of possible ouster from the Champions League.
For Rivers United, it is not so like Rangers. The Governor Nyesom Wike team remains the most prepared for the African onslaught. One is comfortable with them despite the fact that the game remains unpredictable.
However, if the Port Harcourt based team concentrates, remains focused, determined and avoids unnecessary distraction that may result into making silly mistakes at home game and away grounds, it stands a good chance to make it. One is comfortable with the kind of attitude it has given this assignment. Their camp is not divided as Rangers'. It's one mind, one destiny for the United squad from Rivers State. The team is never woven around any individual. It has shown capacity and gritty. Daily Sports doff their hearts for the never say die team.
Let us keep our fingers crossed to watch and pray that Rangers swim out of this. Their officials won't be comfortable with this mild write up on the happenings in their camp.
It is the truth and nothing can cover it for too long. Instead of resorting to abusing the reporter, those vested with Rangers Champs League must quickly re-juggle whatever is their template because it has proved to be faulty. A stitch in time, they say saves nine.
For Rangers elimination at this stage would be so painful to their numerous fans therefore all and sundry must wake up and brace up decisively. The team is in precarious state. A word, they say is enough for the wise. Enough is enough. The team is not FC Ifeanyi or Wikki Tourist that were booted out before you could wait. Trust, we will be on top of this worrisome Rangers development, Discussion Continues, keep shooting hard. Till next week!
Source Daily Sports
Posted February 27, 2017
---
You may also like...

International basketball players arrive Nigeria for ABL debut...

Leaving Chelsea was the right decision- Emenalo

Iheanacho makes history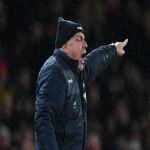 Allardyce warns Palace to respect Bolton

Omeje pens 3-year deal with Swedish club