Buhari, NFF, ex-Falcons mourn Mabo
By Daily Sports Nigeria on March 14, 2023
The President, Major General Muhammadu Buhari (red.) has extended condolences to the family of Ismaila Mabo, a former coach of the Super Falcons, who died on Monday aged 80.
The former Falcons coach died during the early hours of Monday morning in his residence in Jos, the capital of Plateau State, after a prolonged illness.
In a statement signed by Senior Special Assistant, Media and Publicity, to the President Garba Shehu, Buhari joined the fallen coach's family in mourning the loss of their husband and father, popularly known as Ismaila Mabo Nakande, a seasoned football manager, credited to have worked with and managed some of the best talented female players in Nigeria's football history.
The statement read, "Mabo was also a legendary footballer in the domestic league, making his mark as a player and captain of Mighty Jets of Jos and also representing the country as a formidable central defender with the Green Eagles.
"As the head coach of the Nigeria women's national team at the 1999 FIFA Women's World Cup, 2000 Summer Olympics and 2004 Summer Olympics, the President believes that Mabo's legacy will live on in the players and the coaches that came in contact with him during his career, as well as the young athletes that will draw inspiration from his managerial abilities in the years to come.
"The President prays that the memory of the departed will be a blessing to those who mourn."
Tributes have also poured in for Mabo, following the death of the ex-international on Monday, The PUNCH reports.
Ex-Falcons stars, journalists and the Nigeria Football Federation eulogised the legendary coach, who was buried according to islamic rites on Monday.
Regarded as the most successful Nigerian coach in women's football, Mabo led the Falcons to their best-ever outing at the Women's World Cup — a quarter-final finish at the 1999 edition — and was also coach of the side at the 2000 and 2004 Olympic Games.
Speaking with The PUNCH, Stella Mbachu, who played under Mabo said, "It's very sad and very surprising to hear of his death, but at the same time we can only believe it is time for him to go because for some months now he had been sick.
"Mabo was not just a coach but a father and we all liked him and cared for him. Whatever he taught us, we always understood because the way he talked to us was just the way a father would talk to his children.
"Even during my coaching course, whenever I had a problem, I would call him and he would give me advice and it always work. He was a great man and a great coach, his records speak for him. We can only pray that his soul rests in peace."
Another ex-Falcons star Patience Avre, a member of the Golden Generation of 1999, in a chat with The PUNCH from her base in the US, added, "I was very sad when I saw the news but what do we do?
"He was a very funny person but when it came to football he just wanted to win and be able to achieve his goals.
"He was like a father to me and every other person on the team. His death came as a big shock to me because last month I spoke to him and he told me certain things that I cannot reveal.
"Mabo is one of the coaches that I will never forget because he had an impact in my life and contributed a great deal to my career. Where I am right now, he is part of the history and I can't compare him with other coaches. I just want to thank God for his life because he lived the life of a legend."
NFF president, Ibrahim Gusau, also mourned the fallen coach.
"The death of Pa Ismaila Mabo came to me as a huge shock," he said.
"Again, we have lost a great man and an accomplished trainer-of-trainers in the Nigerian football fraternity, and my heart goes out to his immediate family and the other loved ones he has left behind.
"Mabo laid down a big marker for other coaches when he steered the Super Falcons to the quarter-finals of the FIFA Women's World Cup in the USA in 1999. Yet, he was simple, humble and humane. We will miss him, but we are consoled that he left giant footprints in the sands of time and pray that God will grant him eternal rest."
Ace sports journalist, Kunle Solaja, also opined that the late Mabo would be forever remembered.
"He has gone to rest but what is important is the fact that his legacy will forever be remembered," Solaja told The PUNCH.
"He was a gentleman and had this fatherly figure that even when he was the coach of the Super Falcons in 1999, their best outing so far at the Women's World Cup, they called him 'Baba' and that showed how fatherly in nature he was to the players."
Victor Ikpeba, the 1997 CAF African Player of The Year, also paid tribute to the legend.
"He was one of the legends of our domestic football, he was a former player that was very popular with Mighty Jets and as a young lad I heard about Mabo a lot on the radio," he said.
"He has ran his race and was the head coach of the Falcons that did very well at the country's third appearance at the Women's World Cup in 1999, where they got to the quarter-finals of the competition. May his soul rest in peace."
Source Punch Ng
Posted March 14, 2023
---
You may also like...

Mbappe Tests Positive For Coronavirus, Leaves France National...

Balotelli Turned Away From Brescia Training Ground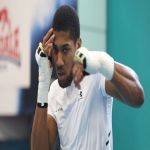 Joshua adds weight for title fight against lighter...

Uyo On Fire As Ibom Derby Headlines NPFL...

Arsenal Triumph Over Liverpool To Lift Community Shield...