NFF Must Be Held Responsible If Peseiro Fails, Source
By By Ogie Osagie, Benin City on May 21, 2022
Views: 217
Says The Portuguese Has No Track Record
Calls Him Another Journey Man
Trial And Error In Super Eagles Here Again
As Nigerians earnestly await the resumption of the new Super Eagles technical adviser, Jose Peseiro a top football administrator who craved for anonymity so as not to rock the boat has urged the Nigeria Football Federation (NFF), to ensure that the Portuguese it insisted must be employed is monitored closely so that he will not go the way of Gernot Rohr.
He spoke exclusively to Daily Sports from Abuja added that the period the Portuguese is assuming the headship of the Nigerian flagship team is too critical and so he must brace up decisively and face this uphill task squarely he posited.
"The naked truth is that this man NFF arranged and delivered to Nigerians has his hands filled to the brim. Many factors he has fix in the team. The building of confidence into the team and the players remains key. One prays that he put the right foot forward in his very first assignment. A lot has to be brought to the picture," he said.
The core administrator further said that the Super Eagles team is presently in dare need of a coach that can properly organize it and put it in proper perspective for results. The NFF insistence that he must take up the job one prays will not turn out to become another nightmare for Nigeria.
According to him, if the information on him regarding his coaching career is anything to rely upon, then it looks that Nigerians are in for it again. He does not have a solid or sound background to handle a high profile team like the Eagles.
"As have kept saying that NFF knows why it went for him but if it is previous performance no way. The other coaches that also applied for the same job he eventually got have world class performance rating. This has been the method NFF has engaged coaches for the national team. This one is no exception," he recalls.
Nigeria fans he insisted need steady and performing team that will not flatter against every team as was the case during the immediate past regime of Rohr. The deed has already been done as NFF was able to convince the Sports Minister. All hands must be on deck to harness result from this incoming coach. The terrain would be rough for him no doubt but with his foresight and planning he will surmount whatever obstacle on his way, he prays.
Source Daily Sports Nigeria
Posted May 21, 2022
---
You may also like...

PSG Knock Bayern Out On Away Goals To...

Aiteo Cup Victory: Enugu Govt. thanks Rangers' fans,...

Conor McGregor suspended from UFC on medical grounds...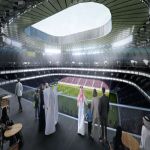 Qatar's World Cup bid used "black operations" -...

Messi Backs Social Media Boycott