Coach Biffo's Kidnap and Release: Matters Arising!
By Daily Sports on January 28, 2019
Views: 11,458

It is not a normal time in Nigeria, today, be it in the political or sports arena. The centre is not holding. We must not pretend about it, especially the ridiculous manner in which the current administration led by an established despot of the first order, Muhammadu Buhari, bared his fangs in the case involving the Chief Justice of Nigeria, Water Onnoghen who he suspended without due process after claiming he was not aware of the ordeals of Chief Law Officer of the federation.
The polity has been heating up to the high heavens since then. Many have condemned Mr Buhari's illegality. The other day, the disappearance of the coach of Kastina United, Abdullahi Biffo added a new dimension to the theatre of the absurd in the football circle. It further highlighted the kind of terrible state Nigeria is in presently. Nobody is safe as far as kidnapping cases are all over the country today and nothing, absolutely nothing is being done to stem the tide.
Coach Biffo was taken captive by these silly kidnappers for days and it became apparent that the cowards were not ready to let go easily until certain conditions were met. Such dastard act by the so-called kidnappers leaves sour tour in the mouth. It further called to question the effectiveness or otherwise of the nation's security network.
If you read the account of Sunshine coach, Kabiru Dogo, at the height of the Biffo kidnap saga, you would understand the terror and humiliation Biffo went through and if on the other hand, you read Biffo's account at the hands of his heartless hosts, you will but dismiss anything Nigeria that border on welfare, security and sundry. Let me categorically state here that from whatever angle you may be looking at it, Biffo came back safely from the pit of hell and it was the hand of God that made them let him go. To be honest with you, I remain scandalized and at the same time dumbfounded that a citizen would go through that kind of mental torture in his country at the hands of these bandits that were thrown up because of desperate quest for political power in 2015 and as these bad boys were not settled, they took up the weapons of war and arm themselves specifically to aid Buhari to power under gunpoint democracy and outright blackmail against the unsuspecting and law abiding citizens.
The citizens have been on the receiving end since Buhari assumed power. He failed woefully to settle or meet the bargain he reached with the bandits who aided him as buffer to grab political power through bloody threats and counter threats that characterised that election. The spillover has devastated and has been shaking the country to her foundation through violent deaths and massive destruction of property since their patron came on the saddle for three and half years now.
Biffo survived the deadly trap by these man-made bandits by whiskers. The outcry was overwhelming and was on the public purview daily and so there was pressure on these wicked blood tasty vagabonds. Biffo saw hell. If you read his ordeal in their hands, you will agree with me. My heart went for him. As a father, many thoughts came to my mind when he was still being held and I was in prayer of agreement with like minds.
I jumped up for joy when the news of his release by his captors came. For the records, I met Abdullahi Biffo thrice when he was among the technical crew of Abia Warriors FC. I saw in him a humble man. He is sound and does his job to the best of his ability. It was unfortunate he went into such wrong hands and I celebrate his freedom this week and will also point out the dangers his kidnap portends.
I will maintain that he was a victim of circumstance created by desperate politicians bent on grabbing power up to the 2015 Presidential election and this wicked creatio has been ravaging the fabric of existence of the nation. One wonders if Biffo would ever be same again and be in the firm frame of mind to give this sweat merchant job his best. However one is tempered to ask this question about the immediate and remote causes of his sudden kidnap. The kind of fear that would continue to envelope Biffo where ever he goes is better imagined than described. In short, it would be safe to say that the coach would be even afraid of his shadow in the circumstance he found himself of late. It will linger on him.
It is a sad commentary and has vividly painted a bad picture on the state of our football which further portrayed the country as unsafe round and round no matter the level of propaganda by the deceitful ruling APC government. The problem of painting wrong picture of the true situation of events in the country would continue to play up and cast this government as liars to the people before the outside world.
Football which unites us is no longer a safe place rather an arena peopled by touts and other criminal elements. While www.dailysportsng.comcrew rejoice for the safe release of Biffo by those bandits, we warn that this kind of nonsense be stopped forthwith as it never gives sound image to the most sort after game in the world. This also calls for adequate security for the teams to avoid reoccurrence of this primitive act in future. For Abdullahi Biffo, it is a warm welcome back to your immediate family and larger football family. The terrible state you suffered from this avoidable joke carried too far no doubt must have told glaring on your person but you must brace up and face squarely this job you have signed to do to show those bastards you and the round leather sport are first and ultimate winners.
This reporter salutes your courage and thanks all those that made your safe release and arrival to reunite with your immediate family despite the hassle. As we wait and watch events in future as they trend, let's continue the discussion in our social media handles on this Biffo kidnap saga and subsequent release after many days in the wrong hands. Below is one of the frightening alarms raised by Sunshine FC's coach Kabiru Dogo which Daily Sports vividly captured . . . Enjoy as we keep shooting hard, till next week!!
Sunshine Stars of Akure coach Kabiru Dogo has urged the Nigeria football family to step up efforts to ensure the safe return of Kastina United coach, Abdullahi Biffo, who is believed to have been kidnapped by unknown persons two weeks ago.
It gathered that a ransom of N15m was made, but the family has not heard from his abductors since then. "I have spoken to a member of his family and I was told they were unable to reach him in the last six days," Dogo said. "As a coach I am deeply sad and worried over what has happened to my fellow colleague. It's not a thing of joy in any way that one of us has been kidnapped yet no answer for more than a week now. "I beg and urge the Katsina State Government and his employers Katsina United to step up their efforts to get him released," Dogo pleaded. "Coach Biffo is more like a brother to me because we are from the same Kwara State. I am also appealing to the Kwara State Government to do something too, because one of their own has been held captive. "The Nigeria Football Coaches Association must also be involved in this matter," he declared.
Source Daily Sports
Posted January 28, 2019
---
You may also like...

Boboye explains quitting Warriors

Ezenwa: I am 100% ready to start for...

President Buhari National Youth Open Water Swimming Championship...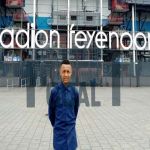 Feyenoord sign 13-year-old Nigerian prodigy Lateef Omidiji Jnr....

Enyimba, Nasarawa win CAF continental games, Wolves lose...