Serena Williams considering retirement from tennis to expand family
By Daily Sports on June 27, 2018
Views: 340
Serena Williams is open to expanding her family, but part of those plans might include hanging up her tennis racket.
During an interview with InStyle Tuesday (June 26), Williams hinted if she decides to have more children she wouldn't return to the court. The sports legend made her comeback shortly after the birth of her daughter Alexis Olympia last year but had to pull out of the French Open earlier this month after battling a pectoral injury.
"We've got to have more. I don't know if I want to play if I have another baby," Williams said for their Bada** issue. "I need to talk to Alexis. We need a plan." She later gushed about her baby girl and how much motherhood has changed her. Her pregnancy was smooth but the after effects were heavy.
Williams had to take the C-section route after enduring hematoma and blood clots in her lungs. She's also been vocal about her postpartum depression, calling for more healthcare reform for mothers across the country.
Despite her post-pregnancy woes, it hasn't strayed her from having more children.
"If I weren't working, I'd already be pregnant," she said. "The only rule I have at practice is to be done at 1 p.m. because as much as I love tennis, I need to be with her [Alexis]."
"I want to put her above everything else I'm doing, so I take calls when she naps. I usually bathe her every night," she shared. "We sing the "Rubber Ducky" song, and then I ask her if she wants the express wax or the deluxe. Express is when I rub coconut oil on really fast and then I put her diaper on. Deluxe is when I do it a little slower and give her a little massage. It's so cute. She's in bed by 7:30 at the latest."
While sharing photos from her InStyle cover, Williams also posted a photo of her Wimbledon wins from 2003 and 2009, leaving many to wonder if she will return to the court sooner than expected. (Vibe)
•Photo shows Serena Williams
Source Daily Sports
Posted June 27, 2018
---
You may also like...

Commonwealth Games 2022: Durban 'may drop out as...

Super Eagles Crisis: NFF must wake up or...

Yusuf confident ahead of NPFL-Valencia Clash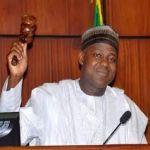 Reps call for postponement of federation elections

How Rangers and Coach Imama Amakapabo are setting...