Reporter apologises To Serena Williams after asking if she was intimidated by Sharapova's beauty
By Daily Sports on June 6, 2018
Views: 650
A sports reporter has reportedly issued an apology after receiving criticism for asking is Serena Williams was "intimidated" by her rival Maria Sharpova's "super model good looks."
Ben Simmons of Inside Tennis magazine issued his statement on June 3, saying, "I apologise if my awkward ques seemed 2 empower Trump or attack Serena/ I SO admire her/ I've spent [my] lifetime fighting racism/ sexism/ homophobia."
He also gave instances of good deeds in support of his apology. "Started campaign to name US Open Stad 4 Ashe/ Lobbied long 2 get Serena 2 return to I. Wells/ Called out police violence vs Blake/ I'm so sorry (sic.)," he added.
Simmons' original question used Donald Trump's 2004 comment, in which he stated that Williams was intimidated by Sharapova's beauty. "And then he came up with this extraordinary analysis: That you were intimidated by her supermodel good looks," he said at the time. "My question is: Have you ever been intimidated by anyone on a tennis court, and what are your thoughts about the occurrence?"
Williams replied: "I honestly don't have any thoughts about that. I can't say I have been intimidated by anyone. That's all. That's it."
While the tennis champion appeared to be unbothered, her husband Alexis Ohanian responded to the reporter's comment on Twitter on June 3, writing, "wait at least another 14 more years before asking another question."
Serena Williams has constantly been criticized for her body and fashion sense throughout her entire career. In her recent cover story with Harper's Bazaar, the athlete admitted that it has been "hard" enduring body shaming, but she has learned to live with it and celebrate her figure. "This is me, and this is my weapon and machine."
•Sourced from Vibes.com. Photo shows Serena Williams
Source Daily Sports
Posted June 6, 2018
---
You may also like...

U17 Women: Hae Yon breaks Flamingoes' hearts

Pascal Durugbor scores in Vaxjo's away loss

No room for complacency, says Kwara United goalie...

Rio Olympics: Nigerian athletes resort to begging to...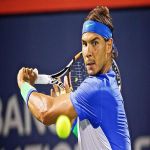 Nadal dominates Thiem to reach Monte Carlo semi-finals,...