Swedish tennis needs a star like Zlatan, says Soederling
By Daily Sports on May 26, 2018
Views: 270
For decades, tennis players from Sweden travelled to Roland Garros with high expectations but the sport is going to need an iconic figure like football star Zlatan Ibrahimovic if they are to regain their former glory, Robin Soederling has told Reuters.
The two-time French Open finalist, who lost to Roger Federer in 2009 and Rafael Nadal in 2010, was speaking ahead of the French Open, the event where his compatriots notched some of their biggest successes from the late 1970s to 2010.
"It started with Bjorn Borg, we had a big star and tennis was very popular. Success breeds interest, and tennis was featured a lot in the media, and I think a lot of kids had tennis as their first choice of sport," Soederling explained.
"We had (Stefan) Edberg, (Mats) Wilander and the rest, and then the next generation, and that was the reason I started. There was always Swedes to follow at tournaments. I didn't have a favourite player but I liked to follow the Swedes," the 33-year-old said.
"Success breeds success, so I think we're going to see the same thing in football with Zlatan (Ibrahimovic). In a number of years there'll be a lot of kids who started playing because of him.
"The current biggest hope for the Swedes is 22-year-old Elias Ymer, who qualified for the French Open by beating Prajnesh Gunneswaran on Friday. Ymer, who is coached by Soederling and is just outside the top 100 in the ATP world rankings, is hoping to follow in the footsteps of Bjorn Borg who claimed the title at Roland Garros four years in a row from 1978 to 1981.
When Borg failed to make the final in 1982, it was left to his compatriot Mats Wilander to raise the trophy after defeating Argentina's Guillermo Vilas in the final. Wilander went on to win again in 1985 and 1988 and he lost the final in 1987, with fellow Swedes Mikael Pernfors and Stefan Edberg also finishing as runners-up during a golden decade for Swedish tennis. Since then it's been slim pickings for the Swedes, with a losing appearance by Magnus Norman in the 2000 final. (thenews.com.pk)
•Photo shows Zlatan Ibrahimovic
Source Daily Sports
Posted May 26, 2018
---
You may also like...

CAF Ban on Joseph Ogabor for Bribery: Why...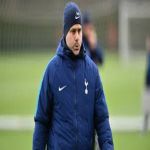 Pochettino backs Lloris to bounce back after Barcelona...

I am here to win Lagos City Marathon...

Obaje reacts to Ifeanyiubah N30 million naira price...

Andy Murray pulls out of Cincinnati Masters