Super Eagles' World Cup 2018 Provisional List
By Daily Sports on May 21, 2018
Views: 16,711
Let me start this week's write up on a lighter note. I thank you Suleiman Abdullahi from Kaduna State for your great words. According to you, you came across this column two weeks ago and have found it objective in analysing critical burning issues in our sports. You read about what you called the unexpected attitude of League Management Company Chairman, Shehu Dikko on his decline to honour invitation that ought to smoothen whatever rough edges that exist between the body and the Nigerian Players Umbrella Union, and last week's where those cursed individuals said he sent them to pour venoms on this writer. Thank you, Abdullahi. We will continue with this thankless job where some of us fortunately found our strength and joy reporting it as it is.
I have come face to face with this kind of situation where people hardly accept their wrong doings even when caught red handed. I still maintain that I am at a loss why Shehu Dikko behaved the way he did by not answering the harmless invitation from the Ministry of Labour.
Let me sound it unequivocally that no amount of threat which I have often described as empty by these idlers will stop this column from x-raying/putting its searchlight mirror on anyone in public service that play god because he/she is occupying somewhere being funded hundred percent with tax payers money because such individual(s) owe it as a duty to be accountable.
We in Daily Sports have been feeding our numerous readers keeping and following religiously and also have kept abreast with the Russia 2018 buildup of the Super Eagles and we can readily also beat our chest as one of the foremost in this regard. Let me insist here that we have criticised and proffered solutions where we found any. Daily Sports has like become partners in progress for the sake of the country and for the deep love for the round leather sport of course the most followed in the globe.
The dice is nearing being cast as the 2018 World Cup football summit counts down. Fact is that countries have been planning and strategising all in their bid to post sterling outing in the once in every years football showpiece.
Nigeria is at the centre of it all and she is not pretending about it. It won't be as usual tournament as countries have spent fortunes hiring first rate coaches and ensured that only their best legs would appear in their colours.
Nigeria is one of Africa's five representatives and has not let anybody in doubt of her resolve to announce her readiness at the World football big stage. Though, the giant West Africa country currently cannot boast of first rate players but she can vividly stand tall via her mixture of experienced and the young. It is instructive to note here that most of Super Eagles players will be seeing big stage football at the World for the first time; however baring any injury, the lads are poised to stand on their own against the bests in the World.
Agreed that the name of the game at this level is experience however, some of the Eagles players can match that with their other counterparts. The road may be tough, rough but only the fittest will survive despite. My observation so is that Gernot Rohr a veteran Franco-Germany technical hand is determined and poised to use the Super Eagles to make statement if his plan works. He has worked hard thus far fishing out Nigerian star young players and those of them that agree to be called Nigerians have responded to the invitation to lace their boots for their fatherland.
We have seen a couple them that would adorn our very attractive Green White Green colour proud to be called Nigerians. There are others that out rightly said 'don't call me a Nigerian'. We have moved on and thus far we are preparing earnestly for the forthcoming World Cup in Russia. We are aiming to dust our former records. We are aiming for the best. Nothing is impossible in the round leather sport. If you focus and with some element of good luck and before fans could say Cristiano Rolando a country destined to win this year's World Cup will be home and dry.
Nigeria being in Russia tournament was a clear product of diligence, hard work and focus. Nigeria's qualifying group was co-named the group of 'death.' Rohr has done well on paper. Let me be honest with you that Rohr with his assistants and young players have worked hard to come thus far and methinks that at this final stage where they will make name, the entire team won't afford to play a second fiddle.
The man has openly admitted that World Cup is not for the kids but rather for the already made, but having qualified to trade tackles against the best in world meant a lot of input must go right in to rub it in. He is much aware of the above and has also told his players point blank that only hard work, determination and focus would serve as the only stimuli for upbeat performance in Russia World Cup football show down. The task ahead is enormous no doubt, only the fittest would survive the 'terror bombardment' that looms less than a month ahead! Pray that we have injury free squad which on a good day is a terror gang.
The technical head last week released provisional list which had two NPFL players. The list was not different from the players that played during the qualifying series and the friendlies played so far. The three goalkeepers that will make the tournament are known by mere looking at the list. Fact is that goalkeeping area since Carl Ikeme fell sick has remained major headache. Francis and Ikechukwu are the front runners for the number one spot. On a note of being world class goalies they are not there but on their good day, they can hold their own.
It is our fervent prayer that our players hit their peak in the competition. Our defenders must cover the goalkeeper well as they jointly play for each other if the boys can transform into a gang as the game gets underway.
Eagles' players have history beckoning on them to surprise the world. Yes, there is no super player amongst them but with focus and oneness, they can get their acts together and forge ahead. The list released by the NFF via the head of the technical crew of the Super Eagles Gernot Rohr is already in the public domain. If one way or the other you missed reading the story and the list, here is the list and do enjoy reading.
The list is out and at the end of the day only 23 names will be forwarded to FIFA the organisers of the championship. Nigeria is in group C with Argentina, Croatia and Iceland; a group I have till date described as mixed grill. A group ordinarily on paper you say thank God. A group also on the surface you can readily pick two teams that would advance, but in this game calculations can be wrong in broad day light. It is one game one plus one rarely produce two as an answer because it has proved over time to be one for the fittest. Rohr and his lads know that it won't be easy. They must tune themselves towards such direction with thick skin. It is rather easy to prepare and play established names in the game than the other way round. However Super Eagles players and crew have over time come to terms with the fact that one must redouble his efforts to hold grip in championship like the World Cup- a competition only for the already made players and not rookies. One prays that when Rohr and his army reach the bridge they will cross it as a result of solid preparation. Take a glance at the list of Super Eagles players to Russia 2018 World Cup tournament.
Super Eagles technical adviser, Gernot Rohr has named a 30-man provisional squad for the 2018 FIFA World Cup in Russia. The list is made up of four goalkeepers, 10 defenders, eight midfielders and eight forwards.
Among the invitees are Captain Mikel Obi, Alex Iwobi, Kelechi Iheanacho, Odion Ighalo, William Ekong and Leon Balogun. Others are John Ogu, Wilfred Ndidi, Oghenekaro Etebo, Ikechukwu Ezenwa and Francis Uzoho.
NPFL leading scorer, Junior Lokosa and Crotone striker Simy Nwankwo have also received first-time call ups.
See FULL LIST below:
Goalkeepers: Ikechukwu Ezenwa, Dele Ajiboye, Daniel Akpeyi, and Francis Uzoho
Defenders: William Troost-Ekong, Leon Balogun, Chidozie Awaziem, Stephen Eze, Bryan Idowu, Olaoluwa Aina, Kenneth Omeruo, Elderson Echiiejile, Tyronne Ebuehi, and Abdullahi Shehu
Midfielders: Mikel Obi, Ogenyi Onazi, John Ogu, Wilfred Ndidi, Joel Obi, Mikel Agu, Oghenekaro Etebo, and Uche Agbo
Forwards: Odion Ighalo, Victor Moses, Alex Iwobi, Ahmed Musa, Kelechi Iheanacho, Moses Simon, Simeon Nwankwo, and Junior Lokosa.
The dice is near cast. Pray for Nigeria for fine outing that they will be put their acts together and get cracking. We will keep you dear readers posted as the buildup hosts up.
You can also join our Twitter handle; as we also chat on Facebook, Linkedin, WhatsApp. Keep shooting hard, till next week!!
Source Daily Sports
Posted May 21, 2018
---
You may also like...

Bet9ja football tournament: BJ, Rockets lock horns in...

Train crushes Team Nigeria boxer in Lagos

Uruguay legend Lugano hangs up the boots

How Man City can beat Liverpool in Champions...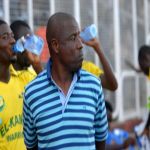 CHAN: Salisu Yusuf says no cause for alarm...