Wladimir Klitschko reveals to Anthony Joshua why he retired
By Daily Sports on May 11, 2018
Views: 852
Anthony Joshua and Wladimir Klitschko appeared for the first time together since their epic 2017 fight in a documentary broadcasted by the BBC titled "Joshua v Klitschko: Return to Wembley."
This time around, the boxing gloves were off, and the two men instead had a candid conversation about their fight exactly one year later, at the very same venue where it all happened – Wembley Stadium.
On April 29, 2017, an epic heavyweight clash was seen live by over 90,000 people in London at the home of English football.
The fight proved to be Joshua's coming of age as he proved to the world he has what it takes to beat the big names of the sport.
It is still also the only fight in which AJ came close to losing.
In a documentary broadcasted by the BBC, Anthony Joshua admitted as much as he introduced his one-time nemesis.
"This is the first time we've met since our fight, and I have to say, it's an honour to be here a year on.
"It takes two to tango and Wladimir was a great dancing partner that night, when I proved I have the heart and ability to compete at world level.
"It was the closest I'd ever come to losing. It was just a classic heavyweight fight."
Klitschko shocked the world a few months after the fight by turning down a rematch, in which he would have reportedly had a $30 million payday.
He not only turned down the fight, he also announced his retirement from the sport he dominated for over a decade.
When Joshua asked about this decision to walk away from the sport, Klitschko talked about his thought process.
"The way I boxed, was the way I acted my life," shared the 41-year-old. "I have to make sure everything sits."
"And I knew my stocks went up after I lost for some weird reason, but it was the most complicated and difficult decision of my life ever.
"For 27 years I've been doing it and then when you know you gotta pull the plug that's it, it's done.
"So I was saying to myself 'Wlad c'mon man you gotta make a decision', because one day I'd wake up and say yes I'm gonna go for it, then second day I'd wake up and say wait a second it's about AJ, it's about rematch.
"So you have to be honest with yourself what is your gut feeling saying coz [sic] as soon as your brain turns on, you're gone."
The fighter, once popularly known as Dr. Steelhammer, revealed though that he was at peace with his decision.
"I'm not for boxing anymore, in this case, as an athlete.
"And after my decision probably 8 or 9 months later I look back and say damn it was the right decision coz I'm in[sic] peace."
•Photo shows Joshua and Klitschko
Source Daily Sports
Posted May 11, 2018
---
You may also like...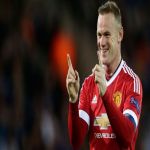 Rooney's agent in China to discuss potential move...

NFF to be investigated over W/Cup bonus allegations...

Manchester United's Champions League hopes fade, Chelsea bounce...

Alex Iwobi "soon to break into Arsenal's starting...

Nwagua targets double with Kano Pillars